Members only article
The Lustery Role-Playlist
October 24 3 min read
It's a known fact that if you have even a single kinky bone in your body, Halloween is your favourite holiday. Think about it, bringing fantasy to life by dressing up – or, more likely, 'undressing' up – to take on new and often more wicked personas... Halloween is basically a role-play celebration day. With Lustery's kink-loving couples, there's no need to wait until 31 October to get into the spirit. Pressing 'play' doesn't get more literal than this...

Bambi and Adon - A Wet Dream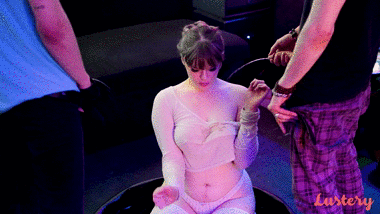 Canadian kinksters Bambi and Adon first met on Halloween in 2016, a more than auspicious date considering their sex life, which they describe as "depraved", doesn't shy from the dark, shiver-inducing and deliciously twisted. In fact, they embrace it. As is evident from this three-way role-play with partner Howl, don't mind sharing either – whether that's their partners or their piss. As the sleepy sub gets put to use by her tormentors, things are getting wet in more ways than one.
Hunny and Tyler - "Did You Dress Up For Daddy?"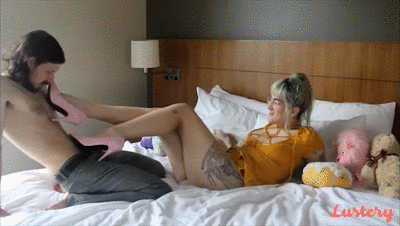 There's dressing up for Halloween and then there's dressing up for Daddy – and after watching American sweethearts Hunny and Tyler get each other all worked up, candy's just not going to cut it when the reward could be so much sweeter. Come for the expected dynamic with Tyler taking the upper hand as Daddy but stay for the plot twist – a brat with a mind of her own who has her Daddy wrapped around her little finger.
Mary and Ann - Latex, Leather and Lust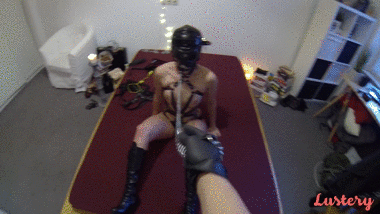 Berlin-based mega-babes Mary and Ann make no secret of their kinky predilections and their second Lustery submission is where all their fetishes came out to play. Collared and leashed, Mary takes on a submissive role, waiting at a latex-clad Ann's feet for further instruction. From toe-licking to impact
This is a members only article
Register for free with one click to
continue viewing
Already a member? Login here