Sex with genuine passion and pleasure. Couples from all over the world. Sex related news, blogs and features. 
A space to talk openly about sex and relationships. The idea of Lustery started with nothing less than a personal epiphany. Here is the story:
A few months ago, I was searching for some pictures on an old hard drive and happened to come across a video I had shot years ago with a lover. A sex video. I had forgotten all about it and the memory makes me blush. I remember what an amazing lover this guy was. There was great chemistry between us and whenever we met, we would fuck for hours like there was no tomorrow. I had a very special connection with him, both sexually and mentally.
"The camera gets turned on, I am lying on the bed naked, sweaty and breathing heavily."
A bit unsure about how it would feel to watch the video years later, I put my earphones in, and I hit play. The footage is mostly shaky and at times a little blurry. It starts in the middle of one of our sex marathons. The camera gets turned on, I am lying on the bed naked, sweaty and breathing heavily. He walks towards the bed, hands me the camera and goes down on me. I can hear myself laughing, mumbling some dirty talk. I record him while he licks me and fucks me with his hand, he keeps looking into my eyes over the camera. I then put the camera on the side and pull him up to kiss me. While watching it I can remember his mouth tasting of me. I find it so hot, it is making me incredibly horny. He turns me around and starts fucking me from behind, holding my head down. He grabs the camera, I see my own back arching and hear myself moaning with pleasure while he pulls my body towards him. He spanks me. I can see the red marks on my ass. Then he leaves the camera on the night table, framing a full close up of my face while he keeps fucking me in the background. I am sat at my laptop staring at myself, getting louder and louder, biting my lips and making fists with the bed sheets. And then it happens, right after I cum with a cry and I hold my breath while my body shakes in the waves of orgasm. I smile and give a quick subtle wink at the camera.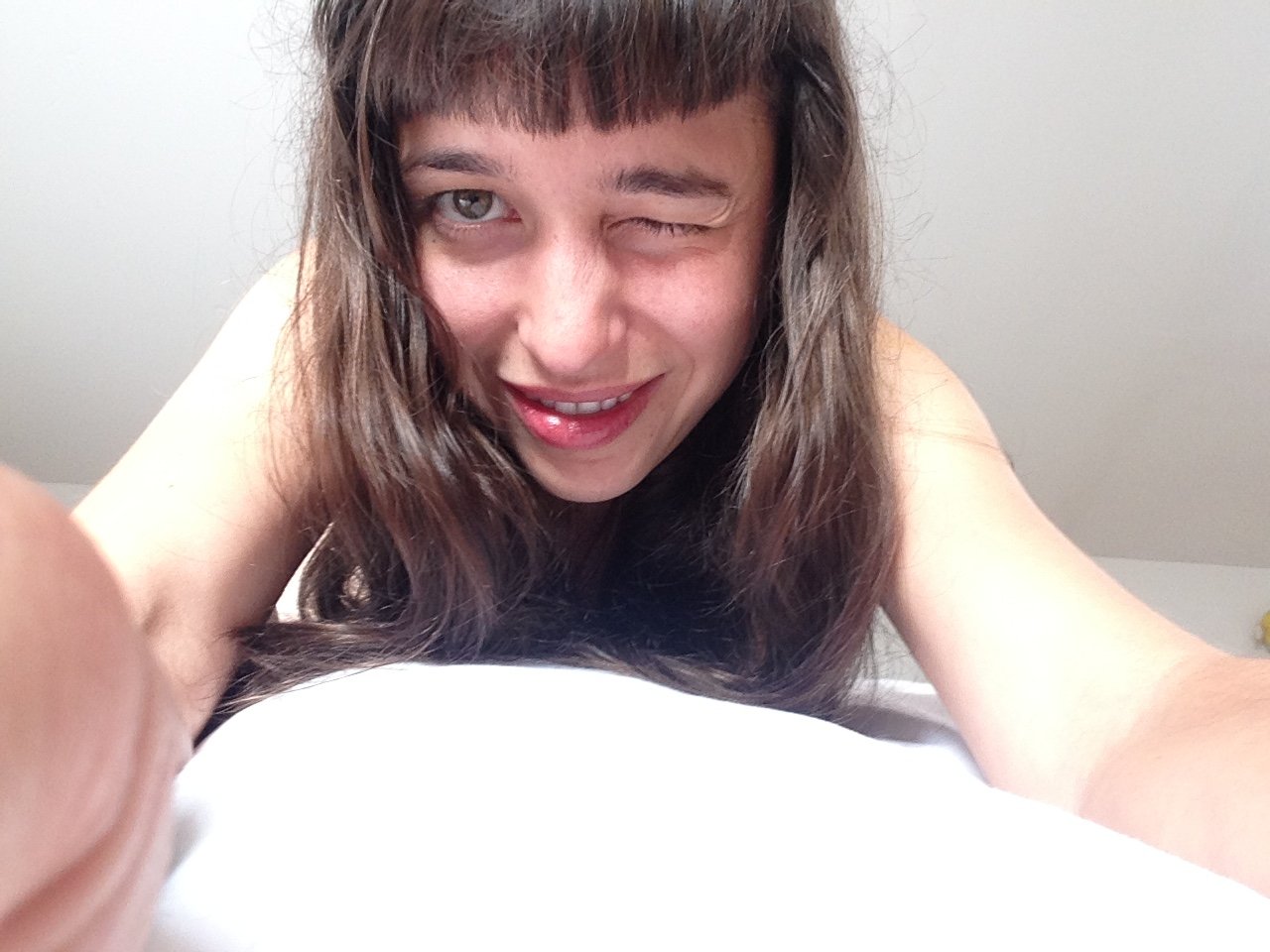 For the next hour I hit rewind, pause, play, rewind, pause, play, I was mesmerized. I kept coming to that wink. The video was not meant for anyone to see. It was our game, for our own pleasure. Why did I wink? Or to whom? I thought about the reasons this video feels hotter than most other porn. The video captured the authentic desire and lust that we shared. I ask myself, how many other couples in the world make videos of themselves fucking? How many hard drives full of passionate, honest and lustful sex are lying around, and how many are still to be made?

I decided to find out. I started by asking my friends. How many of them had their own sex videos? Since I'm part of a sex-positive community, I found that many had tried it and some would be up for trading. We developed the idea of building up a community, a safe space for couples to share their videos with the world.
I have been working in porn for some years now and although there are many kinds of porn I enjoy, I was still searching for ways of producing sex content that depicts true emotions, authentic pleasure and real people. As a feminist, I believe in the potential of porn to be ethical and hot at the same time, at times even educational.

The project started to take form and I teamed up with my colleagues to get started. Together we brainstormed for names and eventually all agreed on the best. A lust factory. Lustery. For the last year we have been working hard to make this vision a reality. I have been contacting couples from all over the world. I talk with them about their relationships and their sex lives. Some have shot themselves before, some are doing it for the very first time. Each relationship is unique, and so is each video, the one thing they all have in common, their videos are authentic, passionate and lustful.

I also want Lustery to provide a platform for sharing information, ideas and experiences on anything from sex to relationships. I am gathering a sexpert team that will be sharing their thoughts, knowledge and personal stories. Furthermore, I want the Lustery community to feel able to ask questions and share in the experience.
Finally, Lustery is here. I hope you enjoy it as much as we do!