In April 2017, a Tumblr post about "toxic monogamy culture" went viral. I was single at the time, but as I read and re-read the list of definitional traits, I slowly began to recognise patterns of my own past relationships. Treating jealousy as an indicator of love? I had done it, for sure. I already knew I had struggled with codependence but I didn't realise the extent to which my self-esteem had been built or broken by my relationship status.
The post resonated – a little too much, if anything. I felt dragged, called out, slapped across the face with what could have easily been a list of my own previous, shitty behaviours.
These patterns are easy to fall into. We're raised on rom-coms and fairytale fantasies about hot guys and damsels in distress. Their shared goal? To live 'happily ever after' – in a long-term, monogamous marriage, of course. Trashy TV shows make high-camp art out of catching cheating partners, usually by hiring secret detectives or wiring up guests to clunky, expensive lie detector machines. We're told to privilege monogamy and treat our partners with suspicion. If we do have reason to suspect betrayal, we're fed examples of couples using shady, fucked-up methods to hunt the truth instead of communicating openly.
Is there any wonder so many of us slip into 'toxic' behaviour?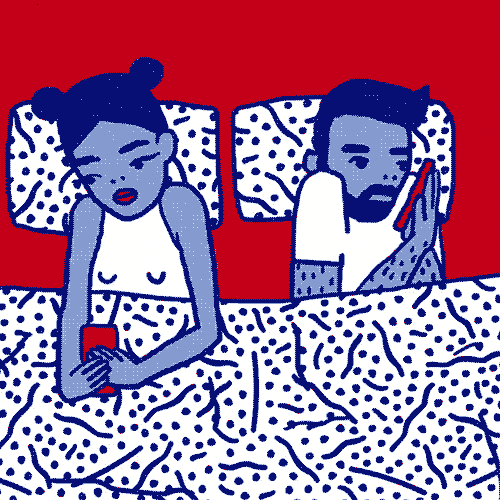 Five years later, I'm in a monogamous relationship. This one isn't toxic, though. For that, I owe thanks to the endless books, memes, Instagram accounts and advice forums I've spent the last half-decade devouring, almost all of which are written by non-monogamists.
For me, it all started with adrienne maree brown's Pleasure Activism: The Politics of Feeling Good. It's about fucking, falling in love, masturbating, kissing your friends' faces and thinking critically about what we actually want, not what we're conditioned to want. In essays, poems and stories, brown and her collaborators speak in-depth about the politics of pleasure, especially for the marginalised communities to whom it's long been denied. It's not a book about non-monogamy specifically, but it's a Bible full of wisdom about care and consent that we could all learn from.
The more I read, the more I realised the inherent queerness of non-monogamy. It's a 'fuck you' to the heteronormative idea that we should all get married and settle down. It's a rejection of institutional power, and a statement of autonomy. Through embracing non-monogamy, we get to write new, queer 'happily ever after' scenarios on our own terms.
Not all queer people are non-monogamous – obviously, I'm not – but queer, kink and sex-positive communities have built cultures around ethics, consent and pleasure that helped me navigate monogamy in new ways. They taught me that jealousy isn't anything to be ashamed of; it's something to be acknowledged, processed and talked about together. When your partner knows an open relationship is on the table if they want it, the fear of being cheated on dissipates pretty quickly. They taught me that consent is an ongoing conversation, that transparency and regular check-ins are key, that boundaries can be renegotiated at any point.
Queer, kink and sex-positive communities have built cultures around ethics, consent and pleasure that helped me navigate monogamy in new ways.
These lessons are most famously articulated in Janet Hardy and Dossie Easton's 1997 book, The Ethical Slut. It's basically a fusion of manifesto and relationship manual, which embraces the infinite possibilities of fucking freely without fucking anyone over. It's packed full of wisdom about open communication, the leading cause of breakdown for monogamous relationships.
Quinn Rhodes, a queer, trans and disabled sex blogger, first learned about polyamory at 19 years old. "It was the summer after I'd made 'learn to masturbate' my new year's resolution," he recalls. "I heard about it through the sex blogs I was reading, and it was a while before I realised it was something people actually did, rather than just being a punchline or a fantasy." He's now "solo polyamorous" – "to me, that means my primary partner is myself," he explains – and has been in a three-year relationship with his long-distance girlfriend, who has four partners, Quinn included. "I've had sex with one of them in a very hot T4T4T (all-trans) threesome!"
In his eyes, there's plenty that monogamous couples could learn from the dynamics of non-monogamous relationships. The main one? "Talk to your partner! One of the reasons I love polyamory is that I'm forced to have conversations that (especially straight) people in monogamous relationships often make assumptions about," like STIs and boundaries. Another lesson is that there's no script for a relationship – it can be whatever you like, and it doesn't have to centre living together, marriage or kids. "There's no such thing as 'the one' and a relationship ending doesn't mean your relationship has failed," continues Quinn. "Sex isn't always tied to romance, you're allowed to have boundaries in a relationship and jealousy is a normal emotion to feel, but it's not a (healthy) sign of how much you care about a person."
Another lesson is that there's no script for a relationship – it can be whatever you like, and it doesn't have to centre

living together

, marriage or kids.
Now, these lessons are more freely available than ever, and in whatever format you like. If you're into podcasts, try Dear Poly. If you prefer individual educators, there's the likes of Kat Blaque, Casey Tanner, Gabrielle Smith and The Kink Educator. In terms of books, there's Rewriting the Rulesby Dr. Meg-John Barker and Building Open Relationshipsby Dr. Liz Powell, recommended by Quinn. "Every time I talk to them about sex, queerness and gender, they say something that blows my mind a little bit!" Quinn also recommends The Dildorks, a podcast through which he's "learned a lot about what non-monogamous relationships can look like."
You don't need to be non-monogamous to learn from these resources. I'm not, and I have. "There's sometimes this idea that non-monogamy is the more 'evolved' relationship style, which is bullshit," clarifies Quinn. "Non-monogamy isn't easy, and I don't believe it's right for everyone. But even when I'm struggling with jealousy, I know this style of relationship is something I chose and will continue to choose because it's right for me."
Now, at nearly 30 years old, I look back on that list of "toxic monogamy" signs on a regular basis and reflect on my current relationship. It feels good to be in love in a way that's not driven by possession or jealousy. It feels even better to know my relationship future hasn't been pre-determined by shitty rom-coms and reality TV. Largely queer, non-monogamous educators have taught me to question everything. As exhausting as it might sound, I've never felt more fulfilled.
Podcast Transcript: