Since the beginning of the pandemic, calls to the UK's Revenge Porn Helpline have skyrocketed. On top of an increase of already 98 percent between April 2019 and the same month this year. In Korea, 70,000 women gathered to protest a sharp increase in illegal filming crimes including spy-cams, upskirt recordings and non-consensual porn.
For survivors like Hahae Son, who learnt from police she had been identified in such a video, the experience was one of revulsion, shame and fear.
Once these videos exist online, they spread fast and can be hard to get taken down. One response to this has been to target MindGeek-owned platforms like Pornhub. The petition, TraffickingHub, which has over two million signatures, calls for the takedown of the porn site claiming it is "complicit in the trafficking of women and minors".
But it isn't always nonconsensual content that is uploaded. Often, in the case of so-called 'revenge porn,' these images were created on the basis of trust and then leaked online non-consensually.
In Lustery's latest campaign video, There's No Such Thing As Revenge Porn the intimacy between the viewer and between partners is betrayed, as it's revealed the world is also watching this private video. We made this to depict in a small way, what online sexual abuse can feel like.
In line with law professor's Clare McGlyn and Erika Radley's rejection of the salacious term 'revenge porn', we're calling it what it is: image-based sexual abuse. Why? Revenge suggests that it is the victim's fault. It trivializes the experience and makes it sound like a casual mistake.
Revenge
The same men (it is mostly men) that claim women were 'asking for it' for 'wearing a short skirt' are also the ones sending abuse on Instagram. Victim-blaming says, 'well she shouldn't have taken that video in the first place'. But sex and sexual images are not inherently shameful. Sharing them without consent or feeling entitled to somebody else's body? That is shameful.
Revenge implies that the reason is heartbreak, or some kind of wrongdoing. It can also be for money, notoriety, or for no reason at all. All of these 'reasons' connect masculine status with sexual conquest. Much like Incels feel entitled to women, not out of sexual frustration, but for status. As Angela Chen writes of masculinity and incels alike, "making sexual experience less of a prerequisite for male social inclusion - and less of a requirement for acceptance and status generally - would help both groups".
Inversely, making promiscuity or sheer sexuality not a viable source of disgrace would help women.
Porn
Porn is consensual. Distributing intimate images without consent is not and never will be porn.
But it's still tempting to blame porn, right? Like any other cultural medium, porn doesn't exist in a vacuum. It is a reflection of society in the same way as cinema, advertising, or literature. The problem with society? It's sexist.
You often see comments beneath BDSM videos, for example, that assume a woman is being abused. It seems viewers can't imagine a reality where a woman could have consented to that. As Paulita Pappelwrites, "the situation where women would have sex for pure pleasure, for money, or both, still seems to be disturbing, and some would rather believe that women are forced or exploited when doing so". Women are presumed to be passive in their sexuality, and that's simply not the case. But it is the reason slut-shaming can be presumed to be destructive.
Another time you see women stripped of their autonomy is in anti-porn, abolitionist rhetoric claiming to want to save people from 'being sold for sex'. In this case, all women participating in sex work are seen as victims and again, it's impossible to imagine their consent or believe it means anything at all.
When I referred to the TraffickingHub petition earlier, you would be forgiven for thinking it's a moral responsibility to sign it. Of course, you are against trafficking, of course, you want to protect children. What you might not have realised is the people behind this petition share the same saviour, anti-porn agenda in calling for "purity in a pornified world". Not only that, but the religious organisation behind the petition, Exodus Cry, has been connected with LGBTQ+ hate.
Nobody is denying that there are major problems with cybersecurity. Sex workers, who rely on platforms like Pornhub for income, and often have content stolen, are the first to hold them to account: Calling for verification and starting petitions like Sex Workers Against Exploitation Hub.
"We participate in our own boycotts—we are the people who make porn companies money so we are vocal about our criticisms and hold them accountable for their wrongdoings. Not many other social platforms can say that." Sex worker, Gwen Adora tells Vice.
We can't pretend porn is the only problem. In this digital age 'porn' fails to encapsulate the full scope of a violent issue that also includes: spy cameras, celebrity nudes, Reddit, Snapchat, Twitter, Instagram…We've let social media get away with a lot, let's not get distracted by blaming porn while Mark Zuckerburg walks away with filthy hands in pockets.
Further stigmatizing the porn industry is not the answer. If we are concerned about the porn we consume then the answer is simple: pay for ethical porn.
#NoSuchThingAsRevengePorn
Sharing intimate images without consent is sexual abuse.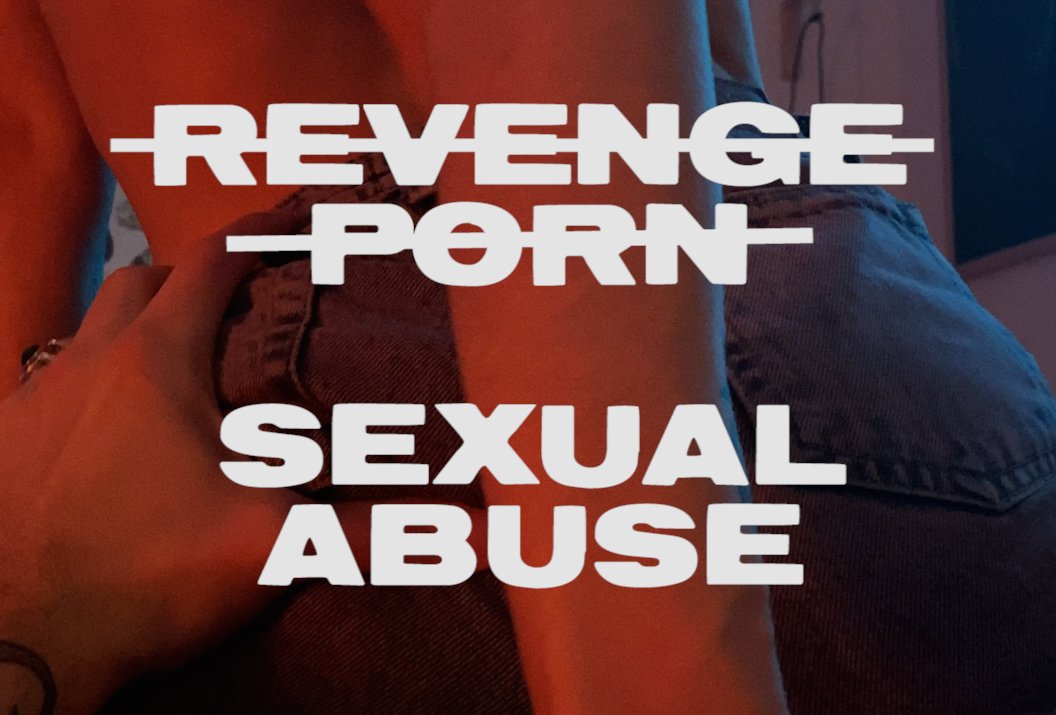 'Revenge Porn' grabs media attention. It's probably why you clicked on this article. But now that we have your attention, it's time to call it what it is. It's time to rewrite the cultural assumptions that underlie both the term itself and what it describes.
Many of our laws are still not fit for purpose. No action was taken in 61 percent of reported social media cases due to "a lack of evidence of the victim withdrawing support". 
To borrow from the law professors once again: "'Replacing the language of 'revenge porn' with the more accurate and inclusive 'image-based sexual abuse' would be a small – yet important – step in challenging the cultural context conducive to high levels of sexual coercion and violence". 
If you have been affected by image-based sexual abuse you can reach out to Victim Support.