If you told me a decade ago that I would become a fetishist AND star in rubber fetish videos, I would have asked, "what the fuck is rubber?" Lady Gaga, Beyoncé and Kim Kardashian have all dazzled in latex couture. Thanks to celebrities and designers like Atsuko Kudo, latex has graduated to high fashion and entered the mainstream. But many of us still don't know much about rubber fetishism. Most simply, latex is a garment that you wear. Beyond that, it can facilitate preternatural experiences.
After a year working in the adult industry, rubber clothing remained a mystery to me. It wasn't until I first slid my hands into latex gloves that I became enthralled by rubber. Not only did I love how I looked, it felt incredible to have parts of my body engulfed in the slick, viscous fabric. Rubber made me feel excited in a way no other material could. 
Rubber clothing dates back almost two hundred years to 1824, when Scottish chemist, Charles Macintosh developed rubberized fabric. The material was designed for raincoats but soon drew fandom for more than keeping out bad weather. Entranced by the feel, smell and even the crisp, rustling sound of the coats, people soon gathered to share sensuous appreciation. The Mackintosh Society* was formed and with it, "Mackintosh Magazine", a publication pushing rubber beyond pragmatism and into pleasure. But was the Mackintosh Society simply a club for trendsetting fashionistas or a gathering of fetishists?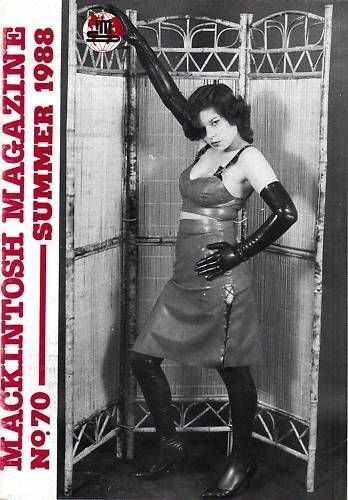 Traditionally, a fetish refers to an object believed to have supernatural powers. A person can fetishize virtually anything that appeals to them. Sexual fetishization starts when someone fixates on a concept, act, object or part of the body, often (but not always) as an enhancer to sexual experience. Therefore the fetish is the object of ideation, while fetishism attributes inherent power or value to that object. 
Popular among punks during the 1980s, Vivienne Westwood has described rubber's anarchic power, "The bondage clothes were ostensibly restrictive, but when you put them on they give you a feeling of freedom." Latex has also morphed into the superhero costumes of the present. Much like Spiderman is just Peter Parker without the outfit, latex - in fashion and fetish - often transforms its wearer. Be it in Cosplay or a Britney Spears music video, latex allows you to embody something beyond yourself. Ultimately, it's rubber's ambiguity that makes it such an excellent conduit for fetishism.
"Look at you getting all dolled up" describes getting dressed up. The sexual fetish, Dollification is similar, if a tad more literal. When dolling, a person can use rubber clothing, inflatable inserts and makeup to turn themselves into a doll-like effigy. It can be both for roleplay with another or individual pleasure. Ultimately, the goal for most who doll is to transform into something more than themselves. The Ukrainian model, Valeria Valeryevna Lukyanova famously underwent surgery to become a human Barbie doll. As the appreciation of latex clothing has evolved over the years, experiences have included feelings of gratification, as well the ability to turn its wearer into a fetish object in their own right.
The spectrum of latex pleasure spans from those who appreciate haute couture to those who experience sexual stimulation. It is difficult, if not completely divisive to try and divorce fashion from fetish. Instead, the community includes all that find pleasure in the fabric, for sexualization or asexual experiences.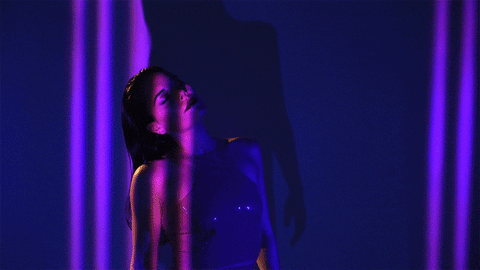 So You Want To Try 
At this point you may be wondering, how does one begin to explore the world of rubber? The first piece of advice I can give you is to start small - don't immediately try to wedge yourself into a morph suit. A pair of gloves or some rubber panties are a great way to see if this material is a good fit for you! Please, please be sure to rule out a latex allergy before donning any form of rubber.
The second tip is to avoid oils or fragrances. Oil, even natural oils your skin produces, erodes latex. You want to limit the garment's exposure as much as possible in order to prolong its use. With that said, latex is one of the most fickle materials there is, so be ready to let go of those favourite pieces. Once you've mastered rubber care, remember to stay open-minded! There are tons of latex designers and rubber makers creating exciting latex gear every day. Explore the corners of the rubber world that make your heart go pitter-pat and thank yourself for it! Maybe you're into the meditative aspect of total enclosure or maybe you really enjoy the power dynamic of breath play? It's up to you! So get out there and get "weird", just always play safely, sanely and consensually. Shine on!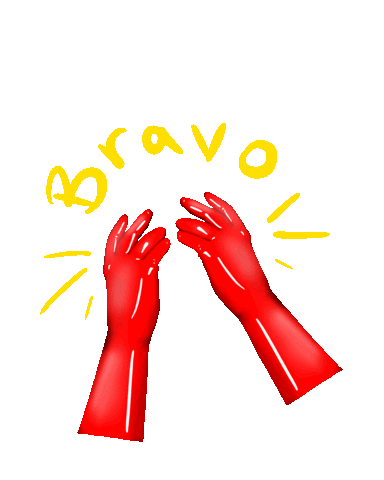 Header image by Da Silva photography