It looks so beautiful, to see someone tied. To be completely vulnerable, allowing the Bondage Artist to make a sculpture out of them. So many different ways, shapes, and forms that the body can be placed in. Like a twisted version of a marionette, only, more breathtaking.
I tied my lovers up before, but mostly with materials I found at the hardware store. My playground. Why spend money on rope at sex toy stores, I wanted to use something different. My favorite material being metal chain. I never thought about putting my victims on display, I came up with this idea to use chain for my own personal restriction. I wanted to quickly bond the hands and feet of my victim, blind fold them, feed them, then fuck them. This process was slow, and seductive, and created some build up, sensory deprivation. With chain, I could slide the metal up their body, and then also quickly use the carabiner to link them to a pole, chair, bed, or even another human being. Just as fast as I could link them, I could also let them out.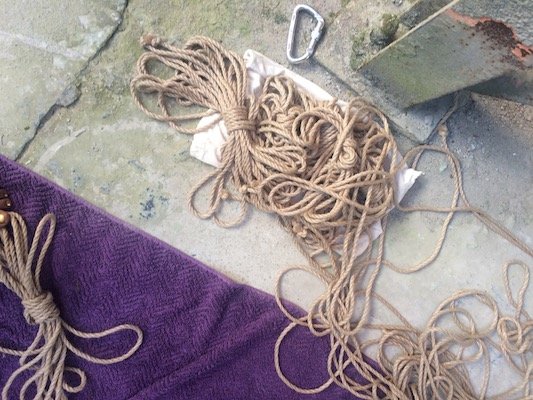 In Rome, I taught a bondage with chains workshop, not realizing how different this technique would be against all of the other people using rope. I talked about ways that you could tease with chain, areas where you could use it, such as tying one's hands, chest, waist, thighs, feet. It can also be used for rougher play such as being led by the neck, and also asphyxiation. When I think of chaining someone, I think of a scenario, and I performed one with my victim on stage in Rome at the Qube for Bondage Week. I allowed my victim to play with the audience until I was tired of watching and ordered them to come to me. When they refused, I went to capture them taking one of my chains and linking it to the carabiner on their neck, while pulling them to the stage. I paraded them around the table, and then bent them over it, taking off their bra, unbuttoning their garter, and lastly pulling down their skirt to reveal their cotton candy like underwear. Taking a leather purple flog, I ordered them to lay on the table. Once they did this, I made them crawl until I turned them over positioning them on their back. This is when I began to control them, bonding them to the table so tight that they would not dare move. Although they tried, each time gaining a smack on their body where ever it was fitting, scolding them to be still or else. As I made sure they were tortured properly, the sounds of FKA Twigs, Peaches, and Sevdaliza encouraged the eroticism of the aural atmosphere. 
I took some cream that I already whipped and started to ice her body, smacking her in the right places to excite her. Then invited chosen audience members to come and lick it off. Not only were we the only ones to involve chains and food, we were the only black bodies attending the conference (as it is often in the fetish scene). It was enlightening to provide something different, we were both satisfied with our exhibition and felt empowered.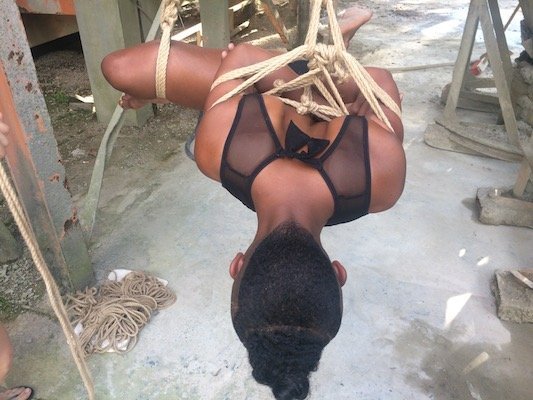 I never learned the Shibari technique myself but was willing to have it practiced on me. I was curious about how it felt to be placed on the other end, the one who was being tied up, and vulnerable. Being in a dominant position in my sex life most of the time was tiring, and I wanted someone to dominate me for a change. And why not creatively? When I attended an artist residency in a cement factory near Poland, there was a bondage artist who came to offer her tying skills. It seemed like the perfect time, and place for this to happen. I allowed it, and was more excited to have a stranger do this than I imagined. She chose an area in the cement factory, where cement was being actively made. You could hear the grinding of the machine humming in the background. She hung a ring and carabiner to an area that was high enough for me to be suspended...and even though I had never even been properly tied before,
I felt a trembling, excited, nervousness pulse through my body unexpectedly. As she tied me up, she also soothingly talked me through it, and there was a small audience, including an ex-lover who recorded it for me. It was a strange feeling being on display in such a naive and vulnerable way. I wasn't sure exactly how I felt about it, but I treated it as an exhibitionist act. It was all new and I decided to go with it. At first, I asked questions about her experience as she tied my arms and chest, but when she started to tie my legs and then pull me up into suspension, I was at a loss for words. I felt my arms start to tingle, losing circulation. I expressed that this was happening and then she changed my position. When I was fully off of the ground, I felt a complete release of power. This was something I never felt before, and now the tingling became a point of euphoric pleasure and pain as I was swinging in the air.
I was floating, hanging, meditative, hearing the gasps from my audience and the churning of cement, along with the sound of satisfaction coming from the bondage artist herself of the masterpiece she created. The whole process took 20 minutes, and then I was slowly let down into the arms of the artist, laying on the cement with her, allowing myself to be weak, and experience the pleasure of letting someone else take control. This is when I realized the release of the build-up, the suspense of not knowing.
Bondage artist: The ClyoPhotographer: Lydia Miligkou