Hygiene is a hot topic in 2020, and it doesn't get hotter than shower sex on Lustery. There's a reason shower quickies and extended bathroom bangs are so popular with our couples: the rising steam, the running water, the guaranteed nakedness, the sounds of moans and whimpers echoing off tiled walls… And, of course, there's the easy clean-up potential – and no, we don't mean washing your hands for at least 20 seconds. We can't promise you're not going to need a cold shower after this one…
Davide & Ariadna -  Quick and Dirty
No point getting clean if you don't get filthy first, right? At least, we're pretty sure this is the logic behind sensual Spaniards Davide and Ariadne's jaw-dropping shower quickie. Never mind working up a sweat: by the end of this vigorous and vocal fuck, there are ample other reasons to rinse off. It's good and it's most definitely fun but it's a long way from clean.
Vincent & Sophia - Squeaky Clean
Most of us associate the bathtub with total relaxation, a place to lay back, switch off and drift off... Not Berlin-based pair Vincent and Sophia though. Through a combination of carnal creativity and erotic athleticism, these two somehow turn the humble tub into a stage for the orgasm Olympics with enough position changes in just 20 minutes and about two square metres that even watching it will get you panting.
Nina & Julieta - Tub Thumping
While a lot of sex sessions might end in the bath, there's a lot to be said for the ones that start there. Long-distance lovers Nina and Julieta's steamy second Lustery video begins with the pair in the tub, soaping each other up and rinsing each other off, and it's not long before they're feeling each other up and getting off back in the bedroom. Don't expect any rubber duckies but do expect handcuffs, whips and a strap-on…
Elliot & Marina - Love, Rinse, Repeat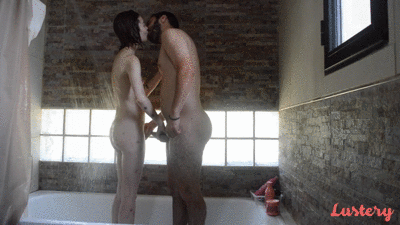 There's a lot that you can get done in nine minutes, and as amorous Argentinians Elliot and Marina demonstrate in their high-speed and horny bathroom quickie, all of that is each other. As romantic as it is raunchy, as the water runs down their slick bodies, their eager hands and mouths are fast to follow…
Vincent & Ashley - A Chance of Showers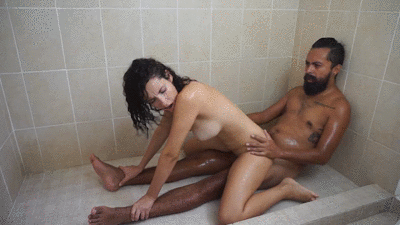 When Vincent and Ashley describe their sex life as 'wet', they don't just mean it euphemistically. Starting out already blisteringly hot with Ashley caressing and touching herself in the shower, they turn up the temperature when Vincent joins. Going from blowjob to from behind and back to blowjob again (can you tell it's Ashley's favourite?), their second soaking Lustery submission is worthy of a "rinse, repeat".
Maria & Zee - Wet & Wild
The best thing about getting clean with a partner is having someone on hand to make sure you didn't miss a spot, someone to meticulously pay attention to every inch of your body so you don't have to… Yeah, we're not talking about soaping up anymore but when you watch Italian couple Maria and Zee's breath-taking bathroom fuck, you'll know exactly what we mean. Come for the excellent incorporation of toys into their bath-time routine and the cum again for their incredible chemistry and a suitably drenching finale.
Podcast Transcript: