In the museum-worthy closing moments of  Slag Wars: The Next Destroyer 's debut episode, a latex-clad  Sophie Anderson drops to her knees to crawl past the reality show's bemused, nearly-naked contestants, her Harley Quinn-inspired makeup still intact despite her tears. "I'm supposed to be an advocate for positivity," she cries to her partner-in-crime  Rebecca More , "and you want me to send one of them home?"
It's a cliffhanger moment typical of any high-profile talent competition, but with their sexed-up superhero looks, tongue-in-cheek acting and easy mastery of the 'good cop, bad cop' roles, Rebecca and Sophie – known collectively as the Cock Destroyers – transform a TV cliché into a high camp masterclass. Ridiculous? Gloriously so. Meme-worthy? Always. In just a few, endlessly shareable minutes, the over-the-top scene consolidates everything the internet has come to love about the Cock Destroyers.
Their shared success story started back in late 2018, with a brief, filthy video designed to entice guys into a group fucking session. As they rubbed their "lovely big tits" and fantasised about being covered in cum, they uttered the now-immortal line: "You know what we are? We're fucking cock destroyers!" In a haze of spit, tits and blow-job lips, the video ricocheted across the internet, retweeted by thousands of cock-hungry fans and bemused bystanders. Within a few days, the Cock Destroyers were hailed as gay icons .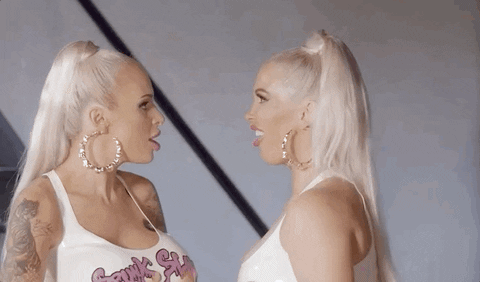 As their followings have snowballed, both Rebecca and Sophie have more than lived up to this reputation. Their presence soon spilled offline into gay clubs across the UK, where they judged amateur porn competitions, lathered up their cleavage with free champagne and encouraged even the most timid among us to tap into our inner cock destroyer. The hilarious jokes and naked drinking games always reeled in huge crowds, but each appearance gave them a chance to spread a message of confidence and sex-positivity, which has long outlived the usual lifespan of viral fame.
Despite rarely revealing the details of their personal lives, there's something endlessly relatable about the horny, larger-than-life duo. When she's not driving for dick or freestyling songs about sperm , Sophie shares regular update videos, reminding her "guys, girlies and non-binary friends" (in a stan-worthy move, she actually took online comments about inclusive language on board – see, queer icon! ) to look after their mental health, even when the world feels like a never-ending shit-show. Rebecca is equally vocal online, but she's also channeled her time, energy and fame into Daddy Couture , a clothing line filled with filthy slogan tees whose profits are regularly funnelled into queer charities .
Not even a global pandemic has managed to halt their momentum; if anything, it's made the Cock Destroyers more relatable. When porn companies closed their doors to performers in accordance with COVID safety regulations, Rebecca rallied the horny troops for comforting, confessional Instagram interviews , inviting her sexiest friends to share their stories. As one lockdown after another was announced, the Cock Destroyers became even more conversational, streaming refreshingly uncensored chats about everything from blow-jobs and porn tips to their families and mental health.
In a world which relentlessly stigmatises sex workers, this willingness to let viewers into their lives has huge political importance. The word 'activism' is thrown around a lot – and often used unjustifiably to label marginalised people, whose existence is politicised whether they like it or not – but both Rebecca and Sophie have used their platforms consistently to fight discrimination. 
From tongue-in-cheek mutual aid promo videos to tweets urging politicians to decriminalise sex work, the Cock Destroyers aren't afraid to use their platforms to push for change. Better still, they do so without softening their sharp wit, or sanitising their personalities. Sex workers rarely get to be seen as nuanced or complex, but this isn't the case with the Cock Destroyers; by maintaining complete control and opening up on their own terms, they've built a loyal fanbase that came for the cum jokes and stayed for the politics.