Or the one I wanted to call 'Much Ado About Nutting'…
The day my grandfather died was one of the least satisfying moments of my life. I know what you're thinking... "Damn, girl, given that this article is about orgasms, I should fucking hope so." I don't mean it like that. Like most families, mine had some unresolved issues and I fully expected that deathbed revelation, the climax in the third act where he saw the error of his ways and redeemed himself, the bit Hollywood had prepared me for. 
Guess what? One, learning about anything in life from Hollywood will fuck you up, and two, we'd never talked about these issues, so of course it didn't come. Turns out that not coming sucks.
Whoever first called orgasms la petite mort , the little death, was onto something. See, orgasms have always been tricky. I'm not talking about having them and I'm not talking about giving them, though as anyone who's experienced lockjaw between their partner's legs can attest to, that can be tricky too. What I'm talking about is  getting them. 
Medical professionals have defined them one way, mental health providers have a different set of criteria, and as for pop culture, particularly when talking about pussies and not penises, shrouding them in mystery has always been a convenient way to approach the topic in much the same way as DJ Khaled approaches the clit – by not giving it the time or attention it deserves.
Recently there has been something of an orgasm revolution though. While once treated as some sort of rare and elusive beast, orgasms for the vagina'd have really come into their own, if you'll excuse the pun. Now it's all 'Yass, don't let your partner get away without making you cum' and magazine headlines that demand you 'Get The Orgasm You Deserve'. 
There's a new wave of porn rejects the overly performative faked frenzies normalised by the industry's dinosaurs in favour of 'authenticity' of orgasms, as well as a glut of vagina-specific sex toys in every adult store, a veritable treasure trove of dildos, vibrators, wands and potions, each promising the 'Big O'. And yet, only 65% of women orgasm on average during sex, compared to 90% of men.
Here's my favourite line to use in articles about sex (because what's a good fuck without one?): therein lies the rub. Somewhere between the still pervasive myths about that other death, la petite mort , and the expectation that every sexual encounter has to reach a sweaty, sticky, shuddering crescendo, we've made orgasms the star of the show without really addressing a very real knowledge gap.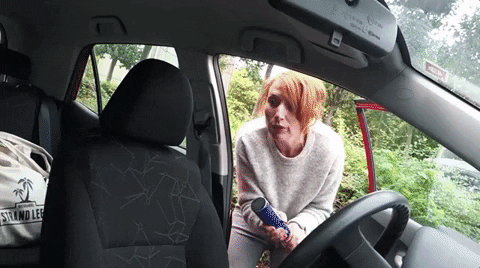 Sex education doesn't prioritise pleasure, especially not the pleasure of anyone who is not a cis man – after all, the scientific community is still debating whether the female orgasm even has a purpose. The normative definition of sex as 'penis in vagina' discounts the importance and, in some cases, necessity of other types of stimulation – statistics indicate that up to 70% of women need some sort of clitoral stimulation to orgasm, while only about 20 to 30% are able to do so from penetration alone. 
The same magazines that insist women channel their inner sex goddesses also come at us with trash like 'Five tips to look great naked', reinforcing body shame and the sort of self-consciousness that impedes intimacy. Women are still thought of as less sexual than men, and while it's a competition or anything, studies have shown that women actually think about sex more than men.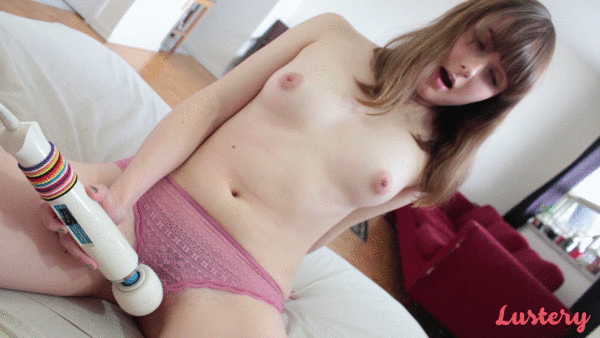 As long as people believe the opposite though, we're unlikely to focus on making sex more enjoyable for women because we think that somehow it doesn't matter. And a lot of porn still privileges male pleasure with most scenes typically ending with the 'money shot' – the male performer's orgasm; the female performers' orgasm is relegated more to the status of by-product. And this misdirection isn't only an issue for those giving orgasms, it's an issue for those having them… or trying to. 
This is where porn producers like Lustery have the opportunity to step in, because representation matters – and if you cum in the process, even better. Orgasms on Lustery show the wide and varied range of orgasms, both from people with penis and vaginas, from small and subtle to loud and ecstatic. Because not every 'O' is big. Not every climax's authenticity can measured by the volume of the screams that accompany it.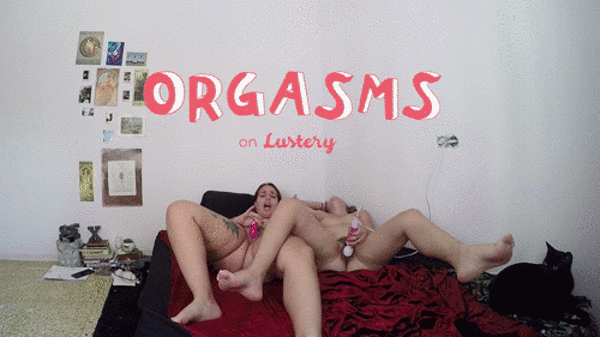 Not every body looks the same, not every body spasms, shudders and twitches in the same way, but every body is deserving of desire and built for pleasure. Not every O-face is a picture-pretty look of transcendental bliss – in fact, the part of the brain that processes pain is also activated during orgasm, which goes part of the way towards explaining our intense O-faces (and probably also why a sound spanking gets me so damn wet).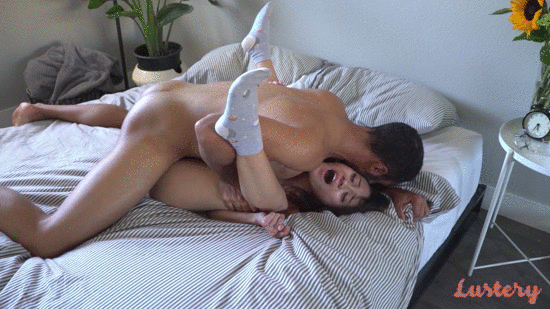 And hell, unlike actually dying, not everybody cums. Orgasms are not the be-all-and-end-all of sex. Like any good eulogy would tell you, it's about the journey and not the destination – and in sex, much as in life, it's probably best if your revelations are not left for your deathbed.