Love doesn't have to mean spending every waking moment together. Sometimes, the most loving thing you can do is offer your partner space. Research shows spending time alone is one of the best ways to regulate emotions, as well as being the most r estful experience there is. But what if we also used this time to ask what brings us pleasure?
With that in mind, for Masturbation Month we want to encourage you to take time for your own pleasure. We've created a custom downloadable door sign to signal to loved ones that right now, you're #TakingMyTime.After all, coming apart can bring us closer together.
Ask For Time To Masturbate
We've come a long way in reducing shame around sex. So why do we still have hang-ups about masturbation in relationships? The National Survey of Sexual Health and Behavior (NSSHB) found that married couples were least likely to have masturbated in the past 90 days. Well, they're already having amazing sex, right? We don't only masturbate to compensate for not getting it. When we accept that, asking a partner for time alone doesn't have to confirm fears that they find your sex life unfulfilling. Taking matters into your own hands is completely healthy for both of you. Why? Your partner isn't responsible for satisfying all your needs.
So you can stop worrying that cute bunny-eared dildo will replace you and start enjoying what your partner's pleasure brings. Getting acquainted with individual desires will enrich your sex life, not take away from it. Though i t's common to experience pleasure scarcity - the sense that there isn't enough love to go around - taking time to address it could be revolutionary. In Pleasure Activism:The Politics Of Feeling Good, Adrienne Maree Brown writes that in liberated relationships, "there is enough attention, care, resource, and connection for all of us" and that goes as much for partnerships as it does for safe communities. Yes that's right, changing your attitude to pleasure could change the world.
You Are Your Safest Sex Partner
Perhaps the most common masturbation fear resembles that of porn addiction, where issues are less likely to come from the act itself, but individual relations to it. For example, feelings of guilt may arise from shame around sexuality, or even fantasies - to which the godmother of masturbation, Betty Dodson says, "honey, the dirtier and nastier, the better". In reality, unless you're shoving a Mars bar up there (absolutely do not do that) the most to fear about touching yourself is fear itself. As Planned Parenthood explains, it's actually the "negative feelings about masturbation" themselves that "threaten our health and well-being".
The NY Health Department recently declared "you are your safest sex partner". Truly, there has never been a better time to keep your hands to yourself. Even before the corona crisis though, masturbation was the safest form of sex. Not only safer, it comes with an array of mental and physical health benefits too, and can even boost your immune system. Popping a deposit in the pleasure bank is an investment in your wellbeing, a s Sexologist, Emily Morse explains, "masturbation improves self-confidence, reduces stress, and helps you sleep better". Not to mention the dopamine hit you get from having an orgasm!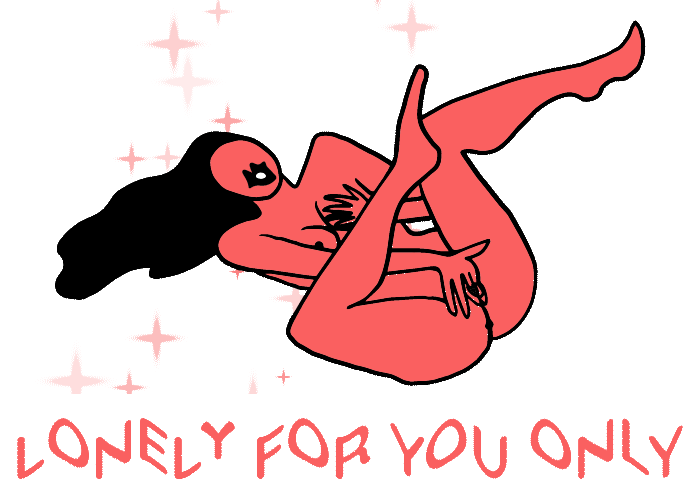 A Helping Hand
So you're ready to embrace self-pleasure but want a firmer grasp on the subject. OMG Yes, an instructional platform dedicated to female sexual desire, can offer a helping hand. The site offers a host of science-based advice to treat yourself to techniques you've never even heard of, including 'accenting' 'layering' and 'edging'. Another great resource is Sex School with explicit sex-ed from those in the know - performers and sex workers - you can uncover a wide menu of topics from consent to anal. Finally, if you're bored of getting off to a predictable 7 minutes of Pornhub, head over to Lustery for play-by-play sex from real couples. Lustery videos are longer than most, so you really get to indulge and discover what excites you. Readers of this article can claim a free week of Lustery premium access by clicking here.
Check out our #takingmytime campaign vid: https://www.youtube.com/watch?v=SrqWoJMK2Dc
Another trusty companion - sex toys. Bedfellows like the Womanizer, Tenga and Satisfyer Pro have what it takes to elevate your rituals to dizzying heights. If you're worried those vibrations will desensitise you though, don't be. "You might find that if you're using a vibrator, it's difficult to go back to your hand or back to your partner at that moment… But it's not permanent," says Dr Nicole Prause (reminding us all to take breaks on marathon dates with the Hitachi).
What Brings You Pleasure?
Though there's been a hike in porn consumption lately, not everybody is feeling it. If you don't feel like masturbating right now then use your private moment to ask: what brings you pleasure? Maybe it's listening to music, donning a face mask or reading a sumptuous novel. Or perhaps you just need a reminder to stop reading the news. By doing something that makes you feel good, you're practising self-compassion. According to Couples Therapist, Esther Perel self-love is precisely "the ability to not fall into a puddle of contempt even when we mess up." Bonus? Being compassionate towards yourself empowers you to do so with others.

It's hard not to think of our connections as harmful amidst the clutches of a virus. Remember we can also spread love. #TakingMyTime reminds us that self-love isn't selfish. It's about bringing pleasure to yourself and allowing that to blossom out to those around you. So take your f*cking time and spread the love by sharing your stories. We want to hear what brings you the most pleasure - especially your favourite masturbation moments.