It's important to practice good sex toy care if you want to get the best out of your sex toys and extend their life. The first step in this is choosing the materials your toys are made of carefully. In the sex toy world, not all materials are made equal. Because they are often sold as "novelty" items they are not subject to the same standards as many products. It can be difficult when it is your first toy to know what is good and what isn't.
The best materials for toys (in no particular order) are:
- Silicone – medical or food grade (not blended). - Stainless Steel - Glass – Often seen as borosilicate. - Aluminium - Ceramic – As long as it is glazed and kiln-fired. - Wood – that has been treated with medical grade varnish. - ABS plastic
All these materials are non-toxic and non-porous. This means it is very easy to keep it clean and sterilize it if using with multiple partners. You can easily wash toys made of these materials (provided they are waterproof) in warm soapy water, and then spray them with some antibacterial toy cleaner. As long as they don't have a motor they can be sterilized by boiling in a pan. For toys with motors I like to use boiling water and sterilizing fluid (the kind used for baby bottles); I put the toys in a large bowl, pour in the water, add a sterilizing tablet and leave to stand for 5 minutes.
You need to be cleaning your toys as soon after use as possible, this helps minimize the risk of bacteria building up on them. It's also good practice to have a storage bag for each individual toy; this keeps them separated and helps keep them free from fluff and dust.
When you're using a toy, if you have to think 'do I need to use more lube', you do. If it hurts, stop. There is no shame in using lube, or in needingto use it. Lube is great for keeping things slick and moving, especially in long sessions. Also for anal more lube is better, as it can help prevent micro-tearing and damage. Speaking of anal, if you're using a toy to go up your bum make certain it is anal safe. It should have a flared base; this means the base should be substantially wider than the body of the toy so that your butt muscles don't "suck it up". Nobody wants to be that trip to A&E.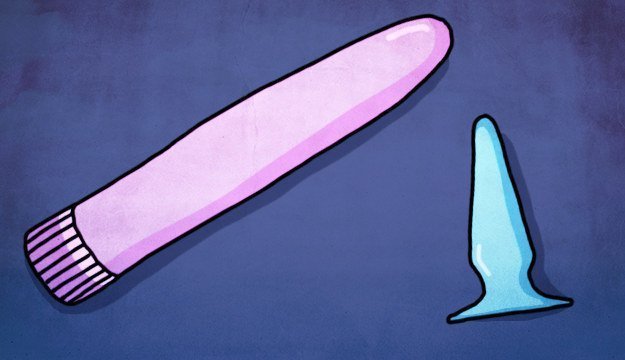 Men can use sex toys too. Not only are there some great options for strokers and masturbators but there are also some great toys designed for prostate massage, and no, liking things up their butt doesn't mean they are gay. The P spot is hidden up there and can cause some of the most intense orgasms for a man.
My last thought on sex toy care is to reassure you that using a sex toy is NOT cheating on your partner. Using them doesn't mean you don't want sex with your partner. In fact, they can be a great way to enhance and add to your sex life. It can be a good way to find out what you like, which can make you a better lover.
Remember: Listen to your body, trust your judgment, and most importantly…Relax and enjoy yourself.