Go to the popular section of most tube sites and you will find plenty of doe-eyed teens, gazing up at the camera, helplessly covered with cum. In stark contrast, some of the defining tropes of MILF porn are experience, maturity, agency. Whilst a 'slutty teen' is subjected to a 'huge dick', a 'Mature Woman Knows What She Wants' and might even teach you a lesson.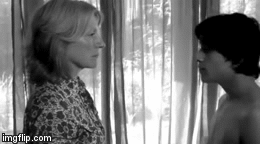 MILF (Mother I'd Like To Fuck) porn ranked as the fourth most searched for term on Pornhub in 2019 , whilst Justin Lehmiller's survey of over 4000 Americans found 88 percent of heterosexual men had fantasized over MILFs. Could it be that the rise of MILF porn reflects a more empowered sexuality?
The Journal of Sex Research found that women in MILF videos were more likely to be placed in a dominant role compared to those classed as 'teens'. A MILF was more than twice as likely to initiate sex, and nine times more likely than a teen to decide the pace and direction of sex. Professionally, she had a higher status. Adult performer, Tanya Tate told Vice :
"I remember when I was younger, I didn't know how to please a guy properly or what to do with him. It takes time to learn and older women have years of experience. Plus, there have always been fantasies in porn: sexy teacher, hot secretary, a friend's hot mom. I have a lot of guys who will do webcam chats with me, like one-on-one, and a lot of them call me "mommy."
Typing MILF into a porn site might also just be a result of looking for more relatable content. As one Reddit user writes "Because the women aren't old, they're like 30 instead of 18". MILF might as well be shorthand for 'very hot woman in her 30s engages in roleplay'. So whilst yes, dominance is empowering, what MILF most often means is that despite being older and a mother - against all odds - a woman remains sexy. It is partially by virtue of the exception to the rule of unsexy mothers, that MILF porn gains a taboo quality.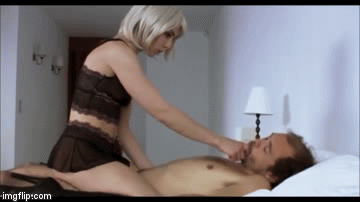 The popularity of MILF porn seems less empowering when you think of all the ways we desexualize m . Whilst a MILF can exhibit her sexual prowess freely, as Petra Büskens writes, "We assume mothers are prudent, tamed creatures who selflessly and, most importantly, platonically love others". Once a mother, you have to think of the children. Custody battles for children are lost on account of sex, the holy mother of Jesus had to remain so removed from sexuality that she gave birth a virgin. The taboo of fucking a 'mommy' goes further than hopping the fence to screw your friend's Step Mom but rather, somebody that is no longer meant to fuck, is doing so. Another Reddit user writes, "Someone put a baby in that once, now I want to fuck it." A mother has supposedly been owned by another, and the fantasy of her becomes one of cuckolding.
In the exhibition, Becoming MILF , porn performer Madison Young, 'a New Breed of Breeder who embraces the Madonna and the Whore', portrays herself as a breastfeeding Marilyn (pictured below). Though the image wasn't pornographic, it led to outrage online. Young was sexualised through association with porn and was seen to wrongly involve a child. As well as this, she mixed an iconic image of sexuality, Marilyn Monroe, with that of motherhood. What is the real taboo here? Look no further than breasts to see the confusion produced by a sexual life and a maternal one taking place in the same body. From there it seems impossible to understand the person they are criticising has agency, a body that is at first theirs and not the property of others. Young responded to criticism on Twitter with, "the only one sexualizing this image of me breastfeeding is you. Which makes me feel truly disgusted and violated".
Yes, MILF porn is a fantasy, an image of desire for domination, agency, care. But it can teach us a lot more than just sex moves. In talking about what makes us desire something, in what ways we feel shame, we hold a lens up to what we have banished from desire. For the majority, 'teen' can only reflect a small part of sexuality, there is so much beyond that. A MILF is not sexy despite motherhood or age but also because of it. As Merritt Ingman writes:
"I think most of us misapprehend the 'MILF' phenomenon. Women are said to fight to retain their sexuality after becoming mothers, but the reality is that motherhood is sexy. You don't get babies from a cabbage patch, after all. You get them from fucking, sometimes from fucking a lot. And from then on you just get sexier. You nurture. You listen. You comfort. You develop nonverbal communication skills, and that's really hot". 
May Friedman includes this quote in the final remarks of her brilliant essay, Beyond MILF: Exploring Sexuality and Feminism in Public Motherhood, where she declares "the popular culture version of "Mother I'd Like to Fuck" takes away maternal agency and maternal desire rather than being a site for mothers who like to fuck, mothers get fucked in this scheme'. I would like to echo this statement here and try to make a new label happen. It's time we celebrate MWLFs (Mothers Who Like To Fuck).