Twenty-twenty-two? More like twenty-twenty-whew!, amirite? From far-flung sexcapades to getting horny at home, twosomes to threesomes to foursomes, and off-the-charts chemistry, communication and desire, we're packing as much amateur porn pleasure as we can into this month's playlist to salute the year gone by. Here's a rundown of some of the ultra-intimate, super sexy and infinitely rewatchable member-favorite videos that helped make 2022 one of the hottest years on record – on Lustery that is!
Dana & Kuka — Only Vans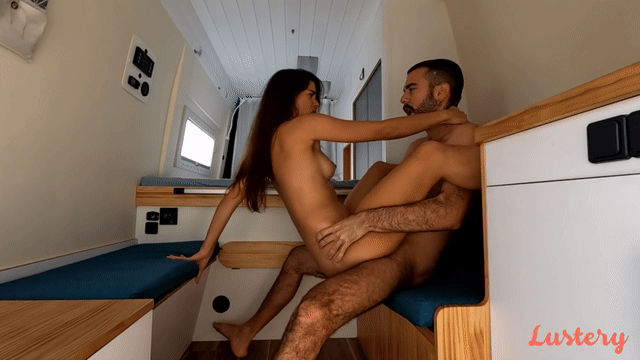 For their very first Lustery video, Spanish lovers and 'Banana Nomads' Dana and Kuka took us on a tour of their camping van home-on-wheels – or at least all of the places to have sex in it! Beginning with on oral feast on the kitchen counter followed by a spit-slicked benchtop blowjob, things then move to the 'bedroom' for a sensational fuck with a surprise anal ending. How much action can you fit into one cosy camper van? As this creative couple prove, it's a lot more than you think.
Tabby & NoName — Rimmed For Their Pleasure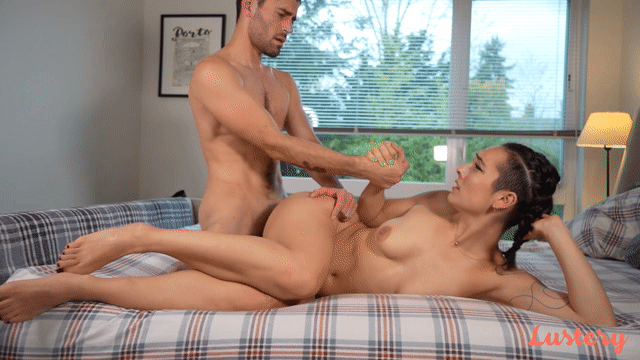 After more than eight years together, it's no exaggeration to say that Tabby and NoName know each other inside and out – and after watching their sensational debut video, it's irrefutable! While packed with position changes, playful power dynamics and oodles of pleasure, what this dizzying initial glimpse into their sex life highlights is their mutual love for rimming with them eagerly treating each other to as much moan-out-loud ass eating as they can handle (and then some!). First impressions don't get cheekier – or hotter – than this.
Maya & Edward — Erotic Novel(ty)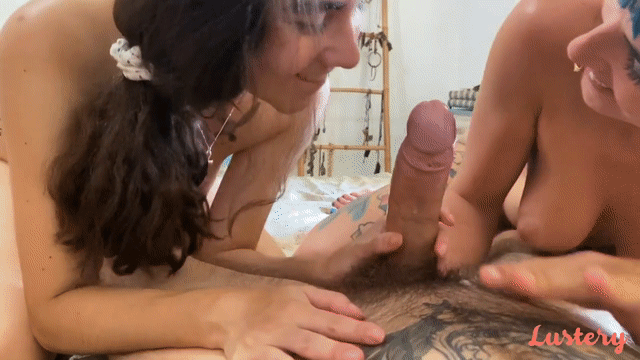 While Spanish couple Edward and Maya have made no secret of their love of threesomes, their first one to be shared on Lustery screens with gorgeous pal Natalia seems lifted straight from the pages of some delightfully filthy erotica – and as you'll see, that might not be too far from the truth! Filled with all sorts of dirty talk – and plenty of action to match! – fantasy becomes reality as their pleasure is not just shared but multiplied…
James & Lola — Vlog: Love, Lust & Sri Lanka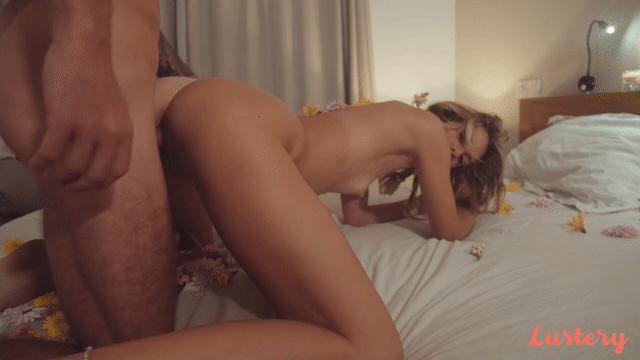 The soaring cinematic intro to James and Lola's spectacular Valentine's vlog alone is enough to make your jaw drop. Opening with surf, sun and all the sensual possibilities of a few months exploring Sri Lanka, we're immediately transported into paradise in this unmissable Lustery submission. But if it's the first moments that set the scene, it's the climax – no, wait! – multiple climaxes that steal it, from the early morning blow job that leaves Lola's tits coated in cum to the later toe-curling orgasms on their flower-strewn bed. These two clearly can't get enough of each other – and we can't get enough of them!
Ana B & Antony — From Head to Toe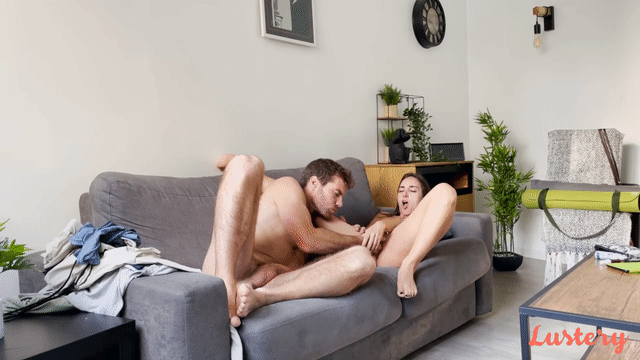 While Brazilian Ana B and her Belgian beau Antony may have met in Mexico, it's in France that these long-distance lovers have picked up where they left off for their sensational Lustery debut – making the most of every second that they spend together, every inch of each other's bodies and every bit of bliss. And what does making themselves at home in their current home-away-from-home look like? Plenty of eager pussy eating, hungry blowjobs, energetic dick-riding, foot worship and, of course, all the cuddles.
Anca & Daniela — Easy As 1-2-3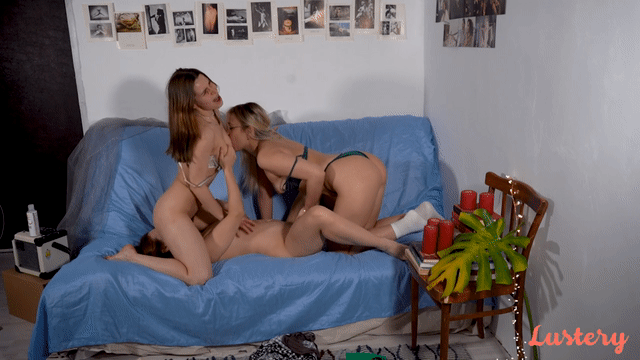 Last year, Lustery had the pleasure of witnessing Anca and Daniela's first threesome together – and it turns out the sassy sapphic sweethearts have been busy since! This time around, gorgeous friend Selveggia was invited to join the onscreen fun and to share a dynamic that has been happening offscreen for quite some time. Between the easy banter shared between the three and the even easier ecstasy that ensues, getting hooked on this syrupy-sweet submission really is as simple as 1-2-3.
Dave & Kami, Mya Quinn & Antony Jonezs — Vlog: All Fours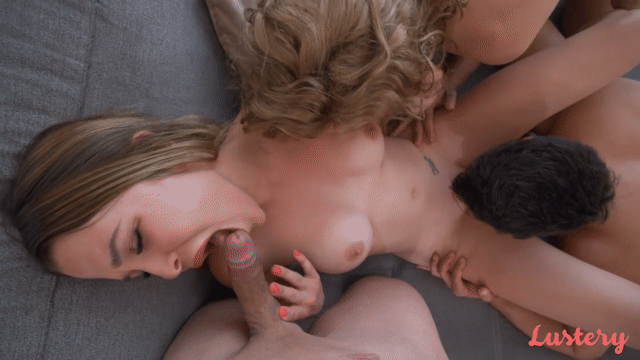 If two's company and three's a crowd, then four… Well, based on the year's most popular vlog by not one by two ultra-sexy Lustery couples, Mya and Anthony and Kami and Dave, four's the kind of group sex session packed with enough explosive chemistry, flirtatious teasing and intense pleasure that it'll have your jaw on the floor long before this video is done. As we catch up with our curious couples in Vienna, Lustery's second-ever fiery-hot foursome isn't just about getting to know each other better; it's about getting to know each other intimately…
Morgpie & Mr Morgpie — Sweet As Pie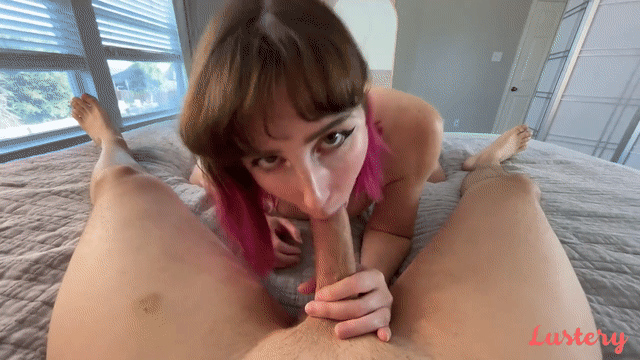 For their debut Lustery video, Los Angeles-based pair Morgpie and Mr Morgpie are trying something new… talking to the camera. While the porn pro couple are no strangers to shooting smut together, their super sweet intro allows some intimate insights into their lives together – and then things get more intimate yet as they demonstrate the way they love to have sex, starting off by lying next to each other and touching themselves until they can't resist getting their hands on each other too.
Podcast Transcript: