According to Kinkly, Female Dominance (often shortened as FemDom or FemDomme) "refers to a BDSM scene or relationship in which a female-identifying person is the dominant partner or top partner." This dynamic can range from a single sexual encounter called a "scene" to an entire relationship. For the purpose of this article, I'll focus on a FemDom scene.
Why would someone be into this?
When I'm in a FemDom role, I become elated from the sense of power and control I have.
I enjoy calling the shots. I feel not only powerful but empowered, and so very embodied. I get to say more than "yes" or "no," which shatters the all-too-common role women tend to get shoved into in heterosexual sex.
I feel safe as a FemDom because I control what happens, when, and at what intensity. The control I get over pacing and rhythm may be the biggest turn-on for me. I find myself being able to deeply tune into my submissive partner, and, as he gets aroused, I get aroused.
Essentially, I get to play with myself through playing with him.
"Perhaps it's my retaliation against the assumption that sex is finished after the man comes..."
On the other hand, men are generally socialized to be sexual initiators and expected to call the shots, but some men simply don't enjoy playing that role all the time, or even at all. Kuka, the male submissive in this FemDom duo reflects, "One of the great things about FemDom is that it kind of changes some stereotypes." (3:40)
According to one articulate man on Quora, he "prefers to be guided," "likes helping people" and appreciates that it "affords [him] a safety valve." FemDom scenarios can free men from gender expectations as well, giving them the opportunity to surrender to something different.
Setting up a scene
In order to create a safe space, t's important to identify what you desire or want to try, what you're open to or are willing to try, and what boundaries or hard no's you have. This process can look many different ways, but it generally begins with self-exploration and then a conversation with your partner. The process in itself can be very connective in your relationship with yourself and your partner. As Dana describes in the video, "For me, the first thing is the communication with yourself." (4:00)
One resource for identifying likes, dislikes, and curiosities is a "Yes, No, Maybe" list. Here's a simple one that lists possible activities such as "face slapping" "blindfolds" and "praise/worship". It gives you the option to mark "G" for giving and "R" for receiving. A tool like this can help you identify both your desires and boundaries.
"Sensory deprivation is always a good place to start," Dana says, referring to blindfolding. This automatically gives the Dom the power of seeing while her submissive cannot. From here, she can play with different sensations that have been agreed upon before the scene, "...and he is your doll," Dana adds, laughing.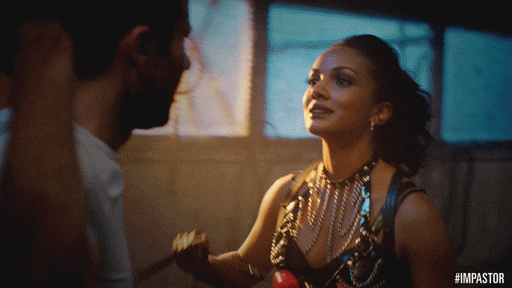 Subverting the norm
Regarding rules, I personally love orgasm control — telling my partner (who would have consented before the scene of course) that they're not allowed to orgasm until I say so is an incredible turn-on for me.
Perhaps it's my retaliation against the assumption that sex is finished after the man comes. If that's the case, he won't come til I'm ready for him to.I like to create a game out of it by increasing stimulation while continuing to order him (or, in this lesbian erotica story, her) not to come.
After a scene
This brings me to the end of the scene. Before the scene, both partners should have spent some time reflecting on what they would like after a scene and shared this with each other. This is called "aftercare." Some want to cuddle, talk, or otherwise connect with their partner immediately after, while others may prefer time to themselves.
Aftercare may be the most overlooked element of physical/sexual intimacy, but it can do wonders for building trust and stronger bonds, both within yourself and your relationship with your partner, especially as you experiment with new power dynamics between you.
Maybe you've had a longtime fantasy of playing with FemDom, or maybe you're just interested in mixing things up. Either way, the excitement of stepping out of a tired role of passivity as a woman, or the freedom that can come from rejecting expectations to always be the one to initiate moves during sex as a man can lead to a fulfilling experience for all involved and a deeper bond with yourself and your partner.
Keep autumn kinky! Check out our special Kinktober collection.