In a small house with a lot of inhabitants, opportunities to sneak around, hide things, or keep secrets are extremely hard to come by. Hiding places to call your own are slim to none, and the chances that there will be someone by the door asking "what's in the bag?" as soon as you walk into the house are endless. Unlike the kids in the American teen movies my sister and I devoured – Can't Hardly Wait, American Pie, 10 Things I Hate About You – our house wasn't nearly as big enough for a family of five, let alone for any of us to sneak in boys or girls overnight, watch grainy soft-core porn on premium channels or look at dirty magazines we cribbed from our friends. The type of privacy we saw and yearned for was a luxury we would only gain with age and cell phones with internet connections.
When I think about how my sexuality and porn consuming habits developed, I constantly go back to my upbringing in that cramped house. My parents never kept stashes of porn in their room (trust me, I checked) and the only time my mom and I ever talked about sex in a casual way was when I found their old copy of '70s manual The Joy of Sex in our bookcase. Yes, it was illustrated, and yes, of course, I'd gawk at the detailed, Japanese-style illustrations on fellatio, cunnilingus, anal sex, good old missionary position, and more. The book was adventurous for its time and became a source of my masturbatory fantasies in the early '00s. However, when its representations became boring and stale to me, my 17-year-old 'late bloomer' brain didn't necessarily understand why. I can't say that spurred me to do more research into what I considered sexy or what turned me on – I wasn't that enlightened. It did the opposite – I put down the book and shelved those thoughts with it.
Once I had more autonomy over my time, energy and resources, I ventured into the most basic straight porn I could find because it was the only thing I thought I had available. Think mostly softcore, late-night Cinemax and HBO stuff: all of the Emmanuelle films (Emmanuelle in Space!), Pornucopia, Cathouse and Real Sex. This last show was incredibly formative for me – its positive portrayals of sex between couples, friends and strangers opened a window into how young, cosmopolitan people truly experienced sex and sexuality that shattered most of the things the conservative society I lived in taught me. In confessional style interviews in the back of a NYC taxi cab, the sex these people spoke about wasn't flawless, "clean" or even a seminal experience for a couple. These people had messy sex, with real joy, satisfaction, and real pain. Sometimes this sex was straight, gay, lesbian, intertwined with drugs, sometimes BDSM was in play, there were threesomes, full-service sex workers recounting memorable encounters with their clients... It was a world that I had never seen, but desperately wanted to be a part of.
Zig-zagging through the porn world, I realized that what I wanted to see more of and what truly intrigued me and turned me on were real (or 'real looking') people having sex in ways that weren't my normal – or what I already knew or thought I knew to be 'normal'. The more I explored, the more I questioned and rejected this 'normal' and the more I wanted to see everyone fucking, not just good-looking white women with huge tits and high decibel moans. I wanted to see people that I could encounter on the street – with tattoos, piercings, scars, body hair, sweat, loud moans and the quiet, soft moans that being touched in just the right spot elicits.
I found all of that in gay male porn.
I always say that I tuned into gay porn by accident but the reality is that I had always had a soft spot for seeing men behave in a sexual way and be vulnerable towards one another. Years before I saw my first gay porn scene, I was secretly infatuated with actors Christopher Meloni and Lee Tergesen's relationship in the HBO show Oz. Okay, maybe not ideal that one of these characters was a pansexual psychopath with a penchant for duplicitous murders, but their scenes were electric and weirdly aspirational for a fat teenager like myself. I couldn't see myself portrayed in films like Love, Actually and Bridget Jones but I could definitely see myself feeling what those two guys were feeling. Who would look at me the way that Meloni and Tergesen's characters looked at each other? They were both conventionally hot, but they also looked mysterious and problematic, and they definitely let their dicks (and later their hearts, but no spoilers) do the thinking for them. It all led back to the messy, real-life sex that I desperately wanted to see portrayed somewhere.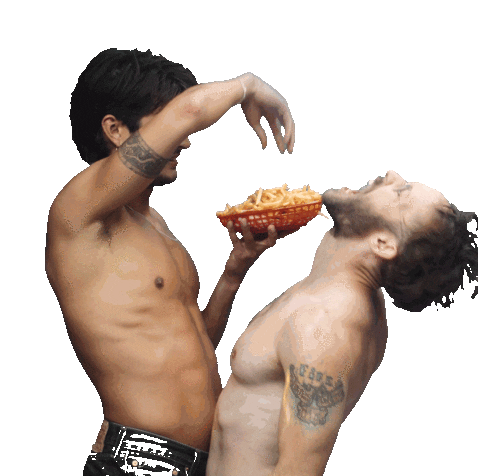 During a beach trip in my early 20s, my gay male friends, which still comprise most of my friend group, introduced me to amateur gay porn on Tumblr. I was hooked. Straight porn made me uneasy because it always made me feel terrible about my sexuality and my body. In my youth, 'BBW' still wasn't a thing, and the porn that reached me had not one fat woman in sight, and if there were, they were dehumanized in one way or another because of their weight and perceived unattractiveness. Gay male porn was stripped of all of this uneasiness; it was just fucking hot. I treated it as a voyeuristic experience rather than a consumer product. It was a window into a sexual world that was far away from my own, where the limitations of my body and my experience didn't matter, and where pleasure seemed to be mutual. It was an ideal scenario for someone like me, who hadn't figured out how to fit in the world as a sexual being, and wanted to get out of a body they felt stuck with.
I went through the rabbit hole until I found the niche that would cement my belief in gay male porn's potential as a transformative medium: independent gay porn. The work of indie film director Travis Mathews injected an emotionality and visual sensibility to the medium that would help me see the aesthetic value of gay porn. While his feature film I Want Your Love, a collaboration with the porn studio Naked Sword, isn't exactly a porn film, it does feature real sex between the protagonists and their partners with an incredible amount of enthusiastic consent displayed. It also steered me in the direction of more story driven porn films, like those of Spanish director Noel Alejandro and renowned Canadian filmmaker Bruce LaBruce. In Noel Alejandro's work, specifically the Bedtime Stories series, I found plot-driven porn films with recurring characters, like one played by actor Bishop Black, that have very real fears, desires, expectations, kinks, curiosities, and even nightmares. I found fearless characters and bold performers willing to give themselves physically and emotionally to both the story and the sex. During the pandemic, I binged most of the Bedtime Stories shorts during sleepless nights and found out two things about myself: (1) I wanted to incorporate sex and sexuality into my own writing and artistic work, and (2) that I am a bisexual woman.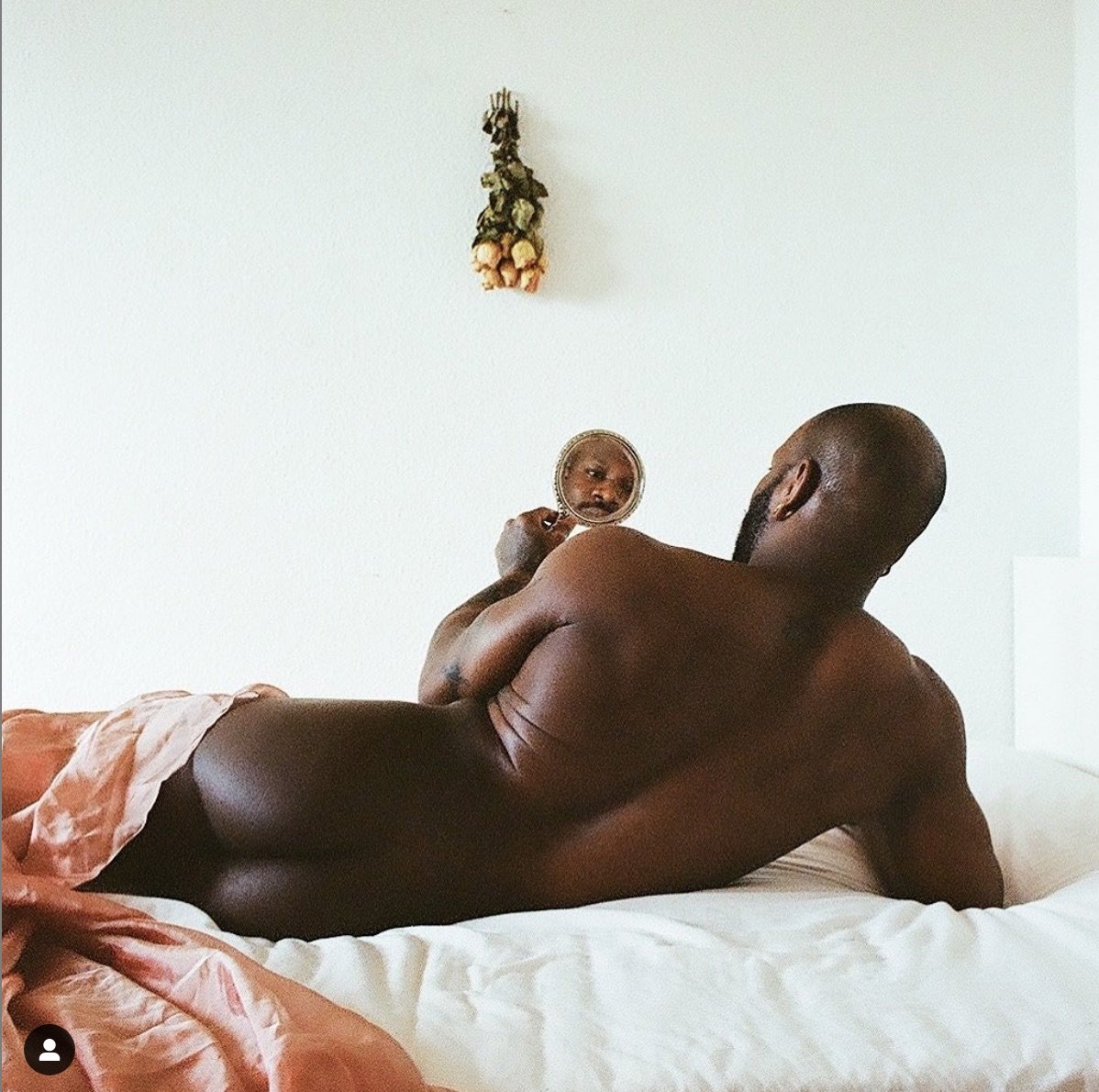 The second one was more confirmation than discovery though. Seeing performers like Bishop Black, Parker Marx – both of whom are part of the amazing XO Sex School project – and Dante Dionys, participate in films with both men and women and speak openly, in some cases, about their sexuality and their work gave me the space to recognize myself and my sexuality, and to live more openly and more freely. It's strange to say, but they all made me feel seen in ways I had never seen myself before. Seeing them also shattered some of the myths and fears that circulated in my head around bisexuality and queerness – that you 'must' favor one sex over the other, or that you couldn't be truly bisexual if you were in straight relationship or had never had same-sex experiences. Seeing them perform and seeing the variety of stories they told with such passion just made me want to live better, more honestly, and frankly, to make better art.
collage header by Amaya García