I learned about scissoring from South Park. Scissoring was presented with derision, the parody of straight people, where a trans woman gets fed up with dating men and starts dating women and they scissor to the melodic croon of Melissa Etheridge. I think the writers would agree when I say that learning about anything sex-related from South Park is a misstep, but in a religiously conservative country, all sex media replaces actual sex education. The cis-hetero punchline to this is that scissoring expresses some sort of impotency where penetration cannot occur. It's a parody of "normal" or "real" sex, a folk cover of a heavy metal song.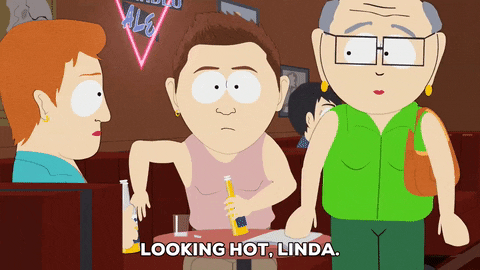 But scissoring is a weird topic in the queerosphere too. There's been a lot of deliberation on the subject, whether it's real, a myth, or if a shadow of it exists and roams free in the queer wild. Scissoring is sexual Bigfoot. We've seen it, but can we really trust what we're seeing? 
There have been expansive reclaimings of scissoring over the last several years, describing what genital frotage is and what it can be. When it crops up in porn however it's often clearly designed for men and looks like two cis femmes pushing their vulvas together and moaning while not touching. This is after a passionless makeout session with lots of hair and face-petting.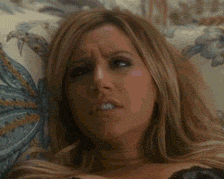 Honestly, it's offensive that I had to get off to that for so many years. 
So I went digging into the history of scissoring. My internet history is a sweaty den of research. To be honest, scissoring is a bad term in general. Knees exist. We aren't operating with Barbie legs like the two leads tripping in Olivia Wilde's Booksmart . In fact, leg positioning is as varied as any other sexual position. Scissoring is sexual frottage (presumably by two people with vulvas. But that's tired too.) and like most things, it dates back to Ancient Greece. Tribadism, in the modern parlance of rubbing vaginas together to achieve orgasm, according to a 1940's Greek to English dictionary means "a woman who practises unnatural vice with herself or with other women." I suppose it was too much to ask for history to be kind and supportive. 
The treatment of this particular sexual act throughout history is antagonistic because people with vaginas having a nice time is generally treated as some sort of deviance. It's an "unnatural" sex practice and gets some saucy euphemisms like "taking the part of a man." Essentially scissoring was pressed right up against Nymphomania and Hysteria in the social taboo and titillation of sexuality. I recommend reading Nymphomania: the Historical Construction of Female Sexuality if you want to be angry AND depressed about this. Most of the language, or derision around the practice that appears in accusatory pamphlets, is levied at the "man acting" one, the butches or tops.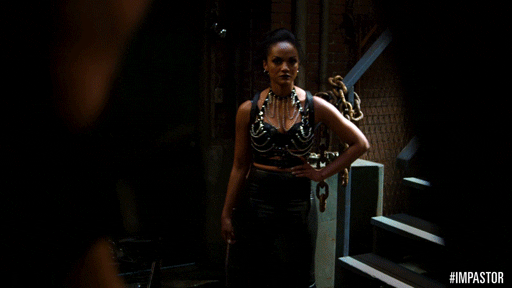 While tribadism was a ruinous accusation, levied against such notorious queers as Marie Antoinette, the real social struggle was encouraged passionlessness by Christianity. And it came with legitimate problems. Since tribadism was considered in Europe to fall under the umbrella of sodomy, it came with as severe a consequence as male or assigned male queers. In many parts of medieval Europe, lesbian sex wasn't considered sexual as no penile penetration was involved - so practising queers might have managed to skate through without legal recourse. However, the trials that did occur for lesbians, bisexual, and non-binary sexual behaviour led to people being scourged, having the hair burnt off their heads and banished. 
So yeah. 
Sodomy went largely under-reported because even elected officials were too icked-out by queer-type sex that it was buried. According to Visible Women: Female Sodomy in the Late Medieval and Early Modern Southern Netherlands (1400-1550) , incidents of lesbian sex were euphemised into non-presence in order not to expose that lesbians exist.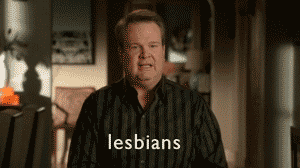 Although Helmut Puff concludes that 'Northern European powers were more active than Mediterranean societies in penalising female homoeroticism' , the small number of actual court cases implies female sodomites surfaced but rarely, rather than being subjected to systematic prosecution. On the other hand, early modern authorities regularly used a veiled vocabulary for female sodomy. This opaque terminology was clearly marked by the 'unwillingness of early modern leaders to make the reality of lesbianism more explicitly known'.
Being a queer femme: the complicated tightrope walk of wanting representation and resenting that you have none, while also realizing that any representation came with death or near death.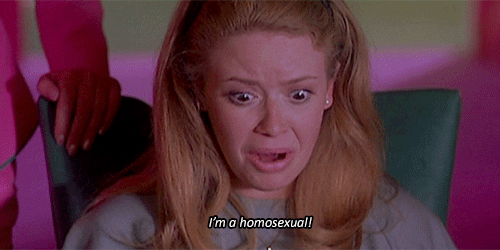 Now back to South Park. South Park presents layers of hostility in its approach to Mrs. Garrison. It should be radical. We have a bisexual trans woman exploring her sexuality and experiencing a different kind of sex. And it's presented as a discovery journey of Mrs. Garrison's body and sexuality. But it's South Park, so it's the worst. Guess we can't have nice things. I'm hardly the first to mention that South Park isn't the best place to learn about gender, sexuality, or race. But being a baby queer in a conservative state in a conservative country, I didn't learn about how to have sex. I had to piece it together from the media. Terrible media. The sex I have either doesn't exist or is a laughable joke in the realm of "real" sex. 
Honestly? I don't know if scissoring is the most popular way people have sex. It's a pretty versatile type of sex that focuses on clitoral stimulation, which is pretty awesome. All I know is that the way queers win is by having hot, satisfying sex, no matter who tells us it's imaginary.