The sixty-niner of gifts, have it both ways this season with presents to wow giver and receiver. Read on for the top selection of hot, surprising, playful gifts to get everybody excited.
Kinky Jewels
Get thrills from accessorizing with jewellery that leads a kinky double life. With the enticing engraving "There is freedom in restraint," Unbound Babes' Bangle Handcuffs promise to deliver. Coated in 24K gold, these bracelets make a wrist look cute in the day and transition into handcuffs later. If you like a good pinch, their lux Nipple & Clit Clamp necklace might also peak your interest! Great for partner and solo play, don these sparkles for date night, then get home and put them to work.
Herbal Hearts Club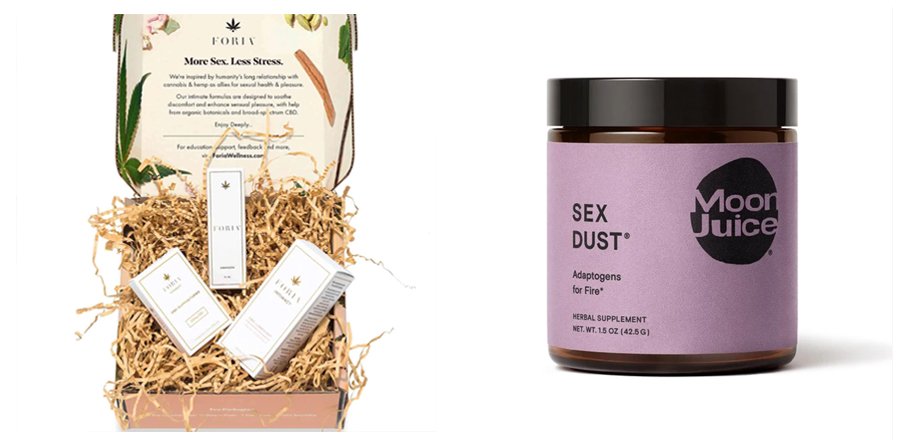 Dodge the stuffing this holiday and use herbs to intensify your sex life instead. CBD oil helps to relax you in the bedroom, and using the non-psychoactive ingredient of marijuana, it boosts your sensitivity to touch and pleasure. Sold? The Holiday Intimacy Collection by Foria contains everything you need to deepen your experience: CBD lube, oil and even suppositories. For a touch more magic, try Moon Juice's Sex Dust, a stimulating powder to support mood, balance hormones and of course, ignite your sexual energy.
About A Toy
If you haven't already, it's time to open up and introduce Eva II to your relationship. Dame's bestselling sex toy for couples, this little device attaches neatly to the labia, where it remains during penetrative sex, sending blissful vibrations to both partners. For transitioning couples, check out this wonderful Dilator Set helpful for dilation but also a great pleasure tool, as well as the Buck-Off™ FTM Stroker, which is all about loving your body. Whatever works best for you, a sex toy will keep giving long after the festivities are over.
The Heart Of The Ocean
When you're too far away for frequent PDA, technology is here to bring you closer. Go the distance with touch bracelets, simply tap and send a signal to your lover's to light up and vibrate, letting them know you're thinking about them. For those that find the empty side of the bed too far away, Pillow Talk emulates the synchronization couples experience from touch, by sending your heartbeat over to your lover's pillow. So whether it's the other side of the ocean or the bed, these gadgets will make it feel like they're right next to you.
Big Screen Lust
Probably the best thing about the holidays is having permission to watch exorbitant quantities of TV. So for a gift both you and your partner will love, why not upgrade your home into a cinema with a mini projector? Pair that with a Lustery Gift Voucher so you can both enjoy your favourite couples on the big screen. With more videos than ever before, Lustery is the premiere destination for real couples, real passion. Now with an even wider look into the lives of couples like Luna & James with Lustery's new VLOG category, this gift keeps getting hotter.
So there we have it, a holiday gift guide for people that like to share the pleasure - holidays were made for me and you. Enjoy!