"Pleasure activism is the work we do to reclaim our whole, happy, and satisfiable selves from the impacts, delusions, and limitations of oppression and/or supremacy." ― adrienne maree brown, Pleasure Activism: The Politics of Feeling Good.
My life is political. 
Every day I walk down the street just being who I am is a protest. Despite all of the challenges that I am up against, I need and deserve pleasure. For my sanity, I have to take myself out of the first world problems and constructs to find ways to bring myself back into my own state of bliss. When I begin to feel orgasmic, I stop thinking. Feeling my feelings for myself and connecting to others brings me into a state of ecstasy. There is something neurotically erotic about being fucked out of my current state of politics. It resets me. 
It's also one of the main reasons why I left the US to be free and re-live my life in the first place. I felt sexier when I lived in Europe. Some of the lovers I connected to there were more open and experimental when it came to spanking, tying, and humiliation. These scenarios turned me on because there was an element of reclaiming my power and not allowing them to degrade me. I thoroughly enjoyed tying them up, then flogging and or torturing the shit out of them with tools like electrical wires and clamps. I spanked them with books, slapped them in public, poured drinks on them at the club, and banged them outside in an exhibitionist fashion. These were sexy, fun moments, but the connections didn't last long. 
In Amsterdam after a few times of being disrespected by Dutch lovers, I started to realize that they weren't taking me seriously. I was a Black fantasy they wanted to experience, not someone they would introduce to their family. There wasn't a growing point of connection with them because they weren't truly getting to know me and I felt completely objectified. Initially, I didn't think they were like 'the rest of the Whites' but then I picked up on clues that I was being exoticized (not appreciated) and was easily ignored when I no longer fulfilled the Black lover stereotype. I was hurt. My sexual prowess dulled because I was disinterested in being who they wanted me to be. I was tired of performing, I wanted to connect on a real level beyond superficialities. Still, as long as I felt a connection with someone, I went for it. I wouldn't let a couple of bad Dutch incidents curse my erotic life and migrated to Berlin. 
In Berlin, sex was welcomed and talked about more in the communities that I mingled in. People had sex outside—at the canal, on the dance floor, in hallways, bathrooms and dark rooms. At the same time, I missed being with my people. I wanted to see more Black bodies in Kink and BDSM spaces and wondered how my fellow Black BDSMers felt in predominantly White circumstances. I discovered that there was a Black Bondage scene in Berlin, but like any small scene within a scene, it felt incestuous. It wasn't sexy to see someone I mentored having sex, or vice versa. I like to be dirty, nasty, and freaky with people who I don't know and live out a fantasy (which was why I often cruised solo). 
In my Dom role, I practice bondage with chains and prefer it because of the feel and secure restriction the metal has on the body. Performing bondage with chains for Rome Bondage week in 2017, I was the only Black Bondage artist with a Black victim. The rest of the acts were mostly Male Doms who were tying up White female bunnies. For some of the torturous scenes, I just thought of how I would feel if I was being bound by a white Russian guy who I trusted to suspend me upside down and submerge my head into a bucket of water. I couldn't see a Black person being in that position without experiencing trauma. I could, however, see myself drowning the White person for play, at their request. There is something erotically twisted about this act which I later safely played out in a film Teen Angels . Before filming, we shared our likes, dislikes, safe words, and rehearsed how much pressure to apply to her head when drowning her. Talking through consent made the scene extra sexy. 
I get aroused by creating boundaries with a lover. Finding out exactly what they like and dislike is very important, but getting even deeper into inner trauma around a BDSM activity can bring you closer together empathically. It helps when we can understand where each other is coming from culturally without having to explain things. Like Gestalt therapy, acting out what is currently happening in your life via BDSM practices can help you gain power in understanding your own triggers. For example, why not be your lover's physical therapist, ask them where they feel pain, and touch them where it hurts. Offer to stretch them out and pay particular attention to those tense areas that need the most attention. This alone is an erotic act that involves communication and reciprocity, pleasure and pain (depending on how far they want to be stretched). They say meow if they want more, I ask them to whimper if they want less. We make sure that both of us are receiving pleasure before, during and after the activity. This mutual aid helps us both feel satiated and ready for more pleasure. 
Kink Out is a diverse collective I joined to discuss art, conversation, work, and activism with other folks into kink. I became involved with this community when I was invited to be a part of a group discussion with Black/POC BDSMers, sex workers, and artists at PS 1 MoMA called Fetish Desires Me (run by the founder of the Kink Out collective, Yin Q). These very hot (in the titillating way) discussions were safe, progressive spaces to explore and not be ashamed to talk about desire and vulnerability when being Black, POC, queer, and in the Sex scene. I joined the production team and assisted with planning Kink Out SPACES by helping transform the PS 1 VW dome environment into an interactive and educational arena of kink/ leather rituals, performances, presentations, screenings, and installations. I felt empowered to spread the energy of sexiness amongst a range of people who were all into different fetishes and thoroughly got off on MCing the Doms while they gave amazing examples of torture on stage. I especially did outreach to people in the Black, trans, gender nonconforming, sex community. This is only the beginning of creating more cultural exposure of diverse erotic artists and sex workers in the community. I want to bring Black people together to heal each other's pain through pleasure. It feels like we are all scattered in the scene here since NYC has so many sex pockets (not to mention the number of specific fetish groups to choose from).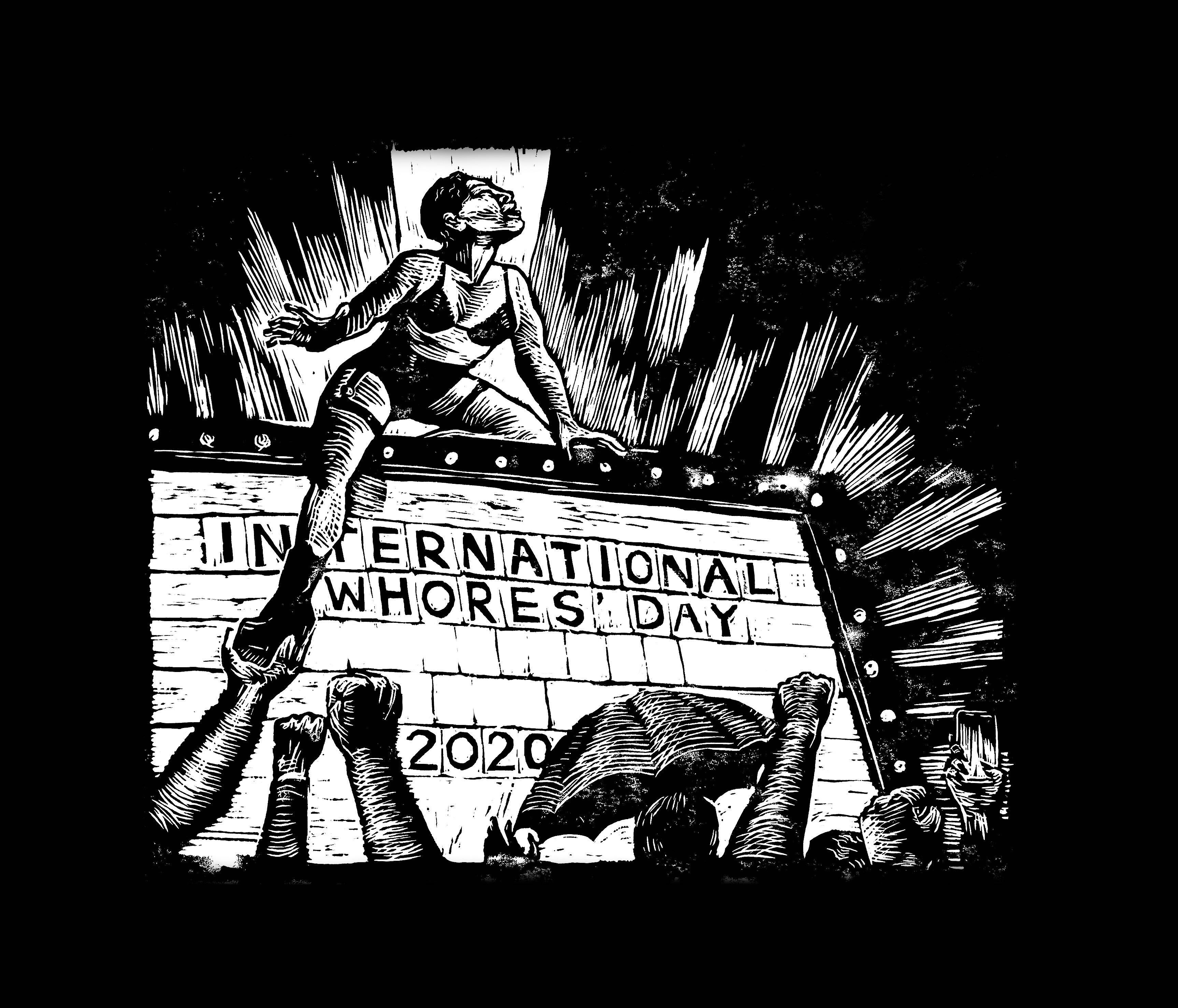 Actions speak louder than words and none of us would have even been born had it not been for sex. I am avidly against sex-shaming and with the ongoing Black Lives Matter movement it is important to highlight the most marginalized in our communities, Black, trans and gendernonconforming sex workers. On June 2nd, I helped to organize a digital rally for International Whores' Day with Kink Out. This was progressive as the rally centred Queer, Black, Trans people who spoke out about what we need to do to stop Black trans murders and develop more resources for Black trans sex workers. It is important to consistently provide platforms for Black Trans people and sex workers to speak from their own perspective and express what they would like to happen. Too often others speak for Black Trans Women, leaving Black Trans men and gender non-conforming people out, instead of providing platforms for Black Trans liberation. Personally, as a gender nonconformist, I find trans and other fellow gender nonconforming people to be my most attractive lovers (thus far) because they have been atypical and creative when it comes to exploring play outside of constructs. I opened up and learned the most about fetish life from my trans boi-friends as a matter of fact. 
As Black people we are sexually diverse, so why not expand our sexual horizons instead of repressing them. We have been trained to self-hate and now it is time to fully enjoy our passionate, loving, sexy selves. Fuck those who want us to stay repressed and be ashamed of our sexualities, fuck the people who just see us as entertainment, they don't have the privilege to touch our bodies, fuck the people who say they are allies, but don't let us dictate what we want, fuck those who think we should educate them, when it is up to them to do their research. Fuck anyone who doesn't support our joy and acceptance. The more we allow ourselves to experience pleasure and live out our fantasies based on our own terms, the more we will fuck the system.