It's hard enough being Black and then gender queer. It shouldn't be hard to be a lover, yet perceptions around race and identity have interfered with sexual connectivity. I want an erotic, romantic, release, not a political discourse over my body and cultural background.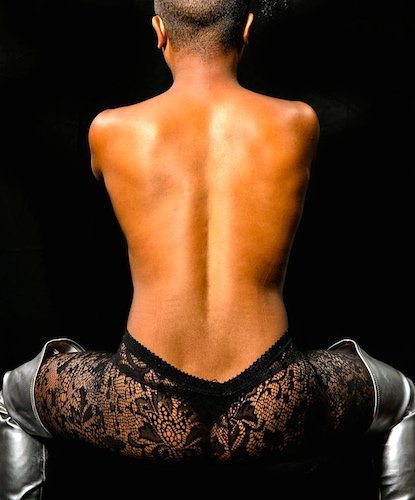 ©Brand Berghouwer
Since I moved out of the US, I have broadened my horizons and explored dating life outside of my own culture. Despite my desire to connect on a pure level beyond gender, class, and cultural circumstance, I know the reality is that we all see each other's armor first. And let's face it, in Western Europe, there are not many other options outside of 'White'. I want to break out of the American concept of race that we are all Black and White...so let me try Caucasian. My experiences with some Caucasian lovers were lacking in cultural understanding, no matter how hard they tried. The breaking points where we lacked an understanding of one another were when I realized they didn't know the difference between appreciation of our differences, and exoticism.
One of my first European lovers seemed to be interested in getting to know me and was not only supportive of my move to Amsterdam, but also encouraged my erotic performance (where other lovers seemed threatened or insecure about it). This bond felt special and I wanted to continue to get to know them, but after I moved, I realized that they never really saw me past my skin color and performance. I was the Black American fuck fantasy, the "new thing" at the time. The intensity of our lovership was 'secret' and at first, I thought it was hot and mysterious, but then quickly realized that they just didn't take me seriously. And in fact, they were just bored with Dutch women and had a pattern of going after American pussy (which they told me they preferred). But better it be someone that looked more like them and that they could bring home to the family. I guess a black, erotic, writer/performer was just not presentable. 
Catching feelings for someone who I thought was different left me so embarrassed. What was I thinking? Didn't I see the pattern? After a few more incidents that were similar, I found that lovers who were praising my skin color and my sexual abilities held a deeply rooted objectification.
Yes, I was naive. I felt stupid. Having broken out of the confines of race, gender and sexuality in the US, I expected to experience less limitations when it came to the culture of the person I dated. I wanted to be able to explore more of myself, especially since I was coming out of years of sexual repression. I wasn't sure how I would be perceived by lovers, but I was hoping that I would gain more freedom to be myself as not only a performer, but a person who loves and likes to be loved in different ways, those not seen as 'appropriate' in the US. There I was seen as a lesbian femme and therefore felt I needed to play a femme-role in bed. I like to fuck, sometimes more than I want to be fucked, and also like to be aggressive in my fetish play. I don't just 'flip' for flip's sake, I connect with people depending on their desires, and aim to fulfil their needs as much as my own. I really wanted to just 'be' and enjoy every aspect of myself without feeling confined to an expected role. Personally, getting to know a lover that is externally hard, makes me want to know their soft parts, and vice versa. Finding enjoyment with a person based on their particular needs is very important and I want to finally sort out ways that I could truly connect to others beyond race, gender and sexual identity. I thought that Amsterdam was the place that I would feel most comfortable doing this..so you can imagine my disappointment when I realized that I was being seen as a spectacle. I didn't know who to trust, who was really seeing me, inside out. But I wouldn't let this take my power, and then change my perception of who I am as an artist, as a person, as a lover. I still wanted to do things that would help me to continue to feel free and be who I am no matter where I am. I needed to get back to my roots and sustain my sexual powers.
This is what drew me to Berlin. I like the raw, unadulterated vibe, and not the fake twisted fairytale. Amsterdam is known for sex work, but I struggled to find anything or anyone sexy there. And every time I visit my first home outside of Europe, I discover it is more and more limited. Even though I migrated towards Berlin, when I go back to Amsterdam, people are still stuck in their own interpersonal drama, often projecting it out on me. I can count my true Amsterdam family on one hand now, and still, I am being made to feel uncomfortable attending events based on a privileged, white person feeling like my black, gender queer, presence is a threat to them. There was no clear explanation. What a slap in the face by a community I have always been open and supportive towards.
And what about sex positivity? There's only one place in Amsterdam that I can perform and be myself. Berlin felt more raw and I really needed to bring myself to a place or space where people truly appreciate my nasty, dirty, mind. I am still a bit cautious about the intentions of my lovers. I guess that no matter what, I need to make a life for myself where I can feel euphoric after connecting with a lover, and not concerned that they are just energy vampires who see me as a muse.
My sexuality is experimental and I am open to communicating this way through many activities including spanking, fire, bondage, and humiliation plus whatever is proposed, if I am feeling it. This all comes with a level of connectivity and trust that is not easy to find with others. But I have developed trust in myself and intuitively know which connections are worth it. I have learned that I can't rely on lovers for orgasmic satisfaction, adventure, nor comfortability. I love to connect with others, but my primary focus is to connect with myself in ways that could help me to feel less limited about who I am based on outside constructs. Who do I feel in tune with, who can I love with no limit? Is it really that hard to connect to someone and get rid of perceptions of who you want them to be? Is it really that hard to fuck and be fucked by someone who can purely understand you on multiple levels, not trying to change who you are? or make a mockery of your existence?
Deep down, I know my root chakra energy is coming from a very powerful, ancestral place, and I want to share this power with other people who truly wish to understand this part of me. I am a person who embodies the power of my African, Trinidadian, Native American roots, loving every part of these powers that enlighten me. The Goddess energies of Oshun, Odudua, Yemaya, and Erzulie embody me in ways that come to me at times I need them most on my path. They teach me to be empowered and be sexy and grounded and walk my walk. The feeling of being two-spirited and embracing both yin and yang sides of myself makes me introspective and separate from the things that I can no longer explain. I like to give, I like to receive, I like to be passionate about my life despite whether or not others are in it. I am esoteric, intense, independent, high frequency, loving. I am so many other things that there is yet to discover. It is always an enhancement to meet a lover on my path who wants to climb over my walls and truly get to know my core.