What is about porn that really  turns you on? Is it the mere sight of jiggly, naked butts and dimpled, bare flesh? Maybe it's the panting, orchestral climax that comes with a great orgasm? The answers differ for everyone, but most porn connoisseurs – and by this, I mean horny Reddit users – agree that the best examples arouse multiple senses.
But even in 2020, hearing or visually-impaired porn consumers can rarely find this enjoyment . Earlier this year, a frustrated New Yorker even sued PornHub for its lack of captioned content , describing it as a 'discriminatory act'. Although audio porn, captioned videos and Braille erotica – even Playboy  came in Braille back in the 1970s – do exist, they often miss the mark. Nothing dampens a boner quite like a string of 'inaudible' captions, and listening to a robotic voice describe Kim Kardashian's "puffy, aroused pussy lips" leaves a lot to be desired. These growing pains are to be expected, but it's worth asking: how can porn-makers create pulse-quickening, orgasm-inducing smut that's accessible to all? Better still, how could that translate into actual representation of the sex lives of disabled people?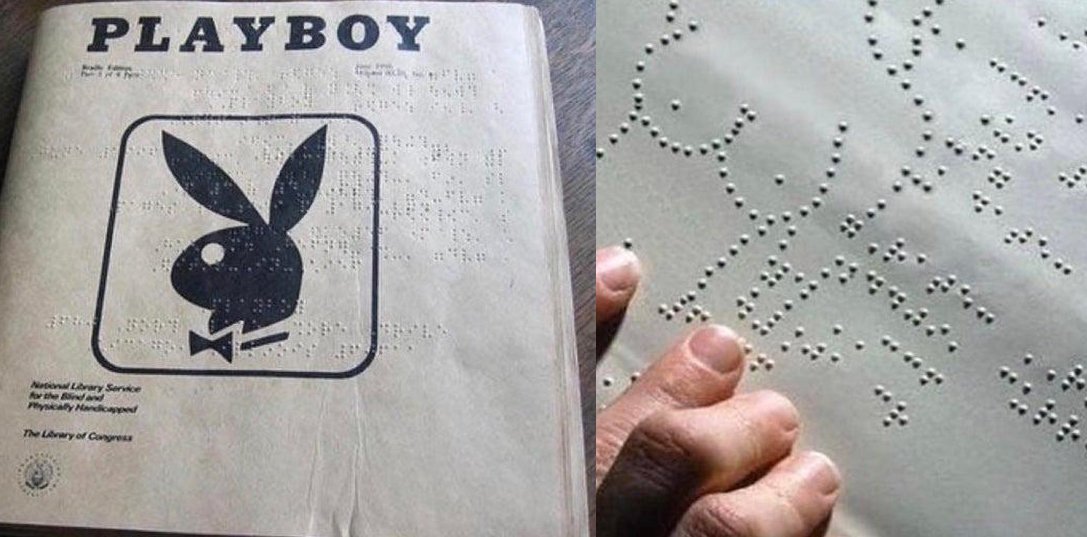 According to Girl On The Net , a gloriously filthy audio porn creator, the key is to see accessibility as something to play around with rather than an obligation. "There's been a huge explosion in the popularity of audio porn over the last couple of years," she tells me via email. "Although my own audio began out of a need for better accessibility on site, the new examples springing up seem less focussed on that and more just on the idea that audio porn is fun in and of itself."
The rise of this dirty-talking phenomenon has accelerated hugely during lockdown , although there's no indication of how many listeners are also visually-impaired. From Girl On The Net's extensive database – which covers everything from glory holes and enemas to fantasies of being caught wanking at the gym – to subreddits like /gonewildaudio and subscription sites such as Dipsea , there's plenty of sexed-up audio porn to get stuck into. The bonus is that it just so happens to be accessible.
However, Girl On The Net argues that there are some misconceptions about its popularity – namely the notion that audio porn is 'for women' in a way that visual porn isn't. Studies have called bullshit on the idea that men are inherently more 'visual creatures' , as does Girl On The Net herself – in fact, her site was borne of a desire to challenge the assumption that women are less sexual. "I've always been pretty horny and very keen to explore the wide landscape of kink, so telling some of my hotter stories on a blog felt like a great outlet for that," she continues.
As it stands, these sites sound way sexier than most mainstream porn because they're actually creative. Plenty of accessible porn falls short because it takes the task at hand too literally. Sure, it's great to write a precise description of a scene, but why cast a lacklustre narrator to drown out the sexy moans and groans of actual porn stars? When it comes to hearing-impaired viewers, are they still likely to enjoy endless, close-up penetration scenes if they can't also hear the frantic slapping of lubed-up flesh?
It's hard to know, largely because there hasn't been much research into the porn habits of hearing or visually-impaired consumers. This ties into a wider problem: people with disabilities are too often desexualised or erased, despite being fetishised on a regular basis.
A handful of stars have spoken out about this, including performer Daniel James, who has cerebral palsy. "People develop this screwed-up notion in their mind that all individuals with disabilities are physically incapable of sex," he explained in an interview with Queerty . "Sex when you're disabled all comes down to the technique, and thinking of ingenious ways to use the surroundings to your advantage." This line of thinking can become beautifully subversive, too. Loree Erickson, a scholar who also stars in sexed-up movies of her own, talks often about the disruptive potential of ' queercrip porn ', and the importance of creating porn for marginalised communities.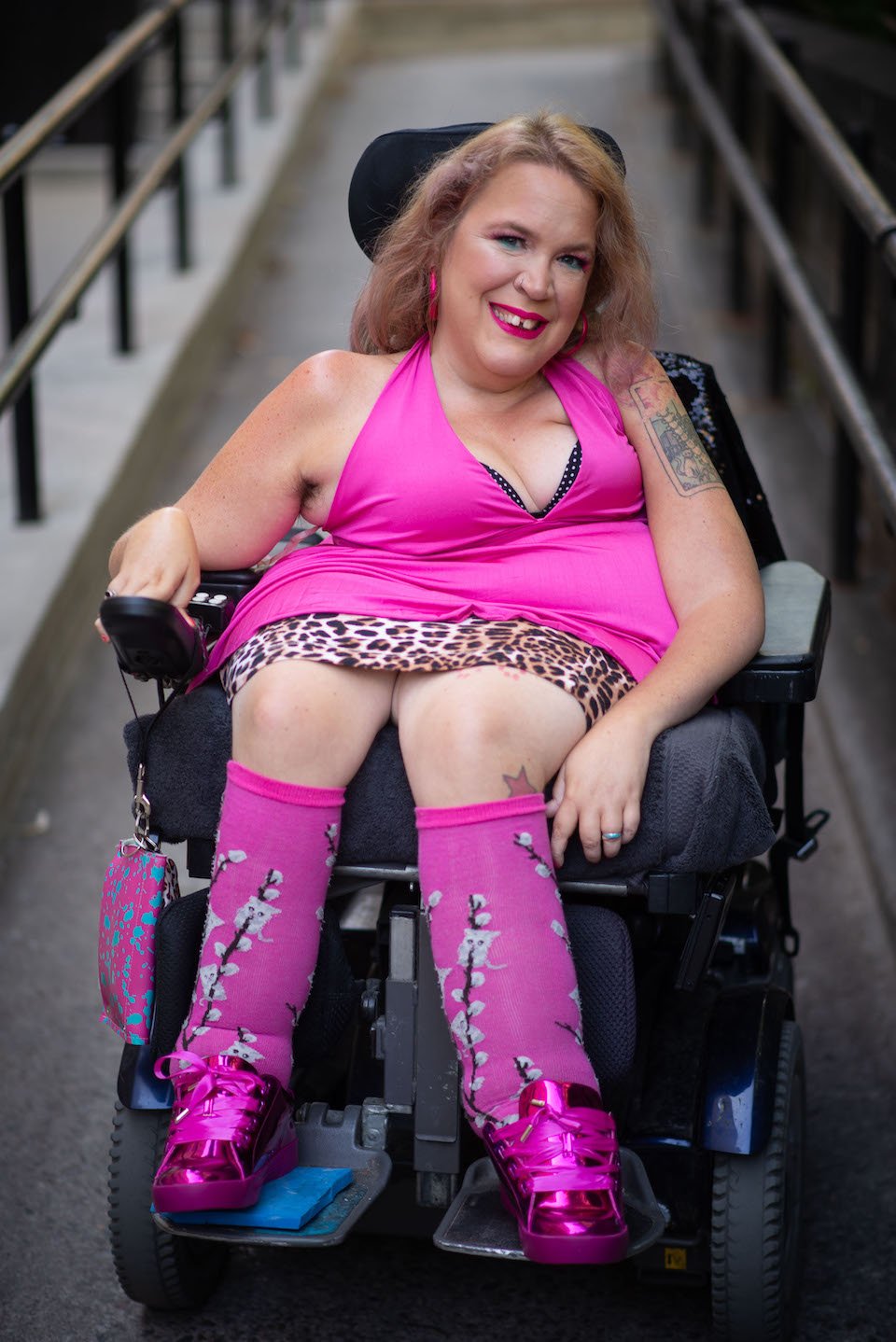 Loree Erickson by Hannah Zoe Davidson 2019
Although a handful of companies catered specifically towards people with disabilities have emerged in the past, most have disappeared. In 2008, Dino Capone founded the now-defunct Deaf Bunny, described by Wired as the "first deaf-owned and deaf-staffed" company. In an accompanying interview , he explains: "ASL (American Sign Language) is the common thread of the deaf community and social behaviours – such as eye contact, body language, facial expressions and vocals (deaf people are loud!) – are unique to our culture. You won't find that in mainstream adult movies."
Follow this line of thinking and you get unconventional sites like Beautiful Agony , which exclusively hosts neck-up clips of models masturbating until they cum. The site was launched back in 2003 to "test a hypothesis that eroticism in human imagery rests not in naked flesh and sexual illustration, but engagement with the face." Although these videos aren't designed solely with accessibility in mind, they do check some key boxes: the moans of pleasure escalate in a way that doesn't need audio description, and hearing-impaired viewers are treated to an intimate, slow-building narrative conveyed through faces contorted into varied states of ecstasy.
In other words, there are creative ways to approach accessibility – and, done right, they can be sexy as fuck. "I know lots of people hear the word and immediately worry that making their site accessible is going to cost them a lot in terms of time and money," concludes Girl On The Net, "but honestly, I think it's about accepting that you'll never get it 100 'right'. You just need to listen to your users, and try to offer your work in different formats where possible."
Porn is capable of this change, but actually engaging with hearing and visually-impaired porn consumers should be a priority, as should spotlighting the sex lives of people with disabilities. Turning them on might not be as easy as slapping a few subtitles over an already-recorded scene, or reading out sterile descriptions of "puffy, aroused pussy lips" – it might require some sexy script-writing, creative positions or an added emphasis on intimacy. Whatever the case, the key is to lean into the challenge and treat accessibility as an extra turn-on, not an added burden.