Members only article
Top 3 quickie videos
August 6, 2018 3 min read
My loyal readers at my personal blog know well that I profess myself 'an advocate of quickies in the most inappropriate places'. They know my addiction for open crotch lingerie that I find to be 'practical' in a certain kind of naughty situations, and after all, they love me for my fun, carefree attitude towards sex.
But I used to think that porn could never possibly be about quickies. To be honest, my partner and I often find ourselves, while browsing for adult videos together, debating about what kind of magic trick probably porn performers, especially male, use to face such long sex performances without cumming too early.
So, when we found a 'Quickie' category on the Lustery website, we finally felt like our niche of aficionados of the 'goodbye' cunnilingus in the railway station's bathrooms (we are currently in a long distance relationship) or of those late nights at his office, has finally been represented in porn, as many other fetishes already were.
Seeing that someone like yourself is represented in porn is, well, a good feeling! Makes you feel somewhat more 'normal' and more accepted in society whatever your kink could be.
That's why we decided that 'Quickie' will be our favourite Lustery category from now on, and we also have compiled a Top Three list where we nominate the videos we liked the most from that category. Have fun!
Clocking off, featuring Jazmine & Miles. Naked is sexy, but half naked can be steamier! Plus, the large windows of the building behind the couple, from which anyone could see them having wild sex in public, makes the whole situation more arousing! Congratulations Jasmine and Miles, you're a very adventurous couple!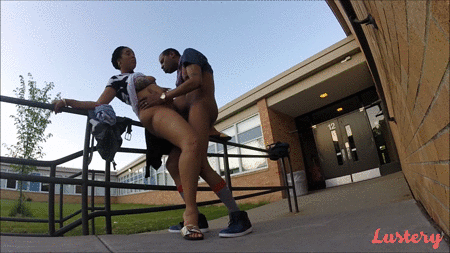 This is a members only article
Register for free with one click to
continue viewing
Already a member? Login here